Map Reproduction Permission Policy
Updated February 2022
The battlefield maps published on the American Battlefield Trust website, in its membership magazine (Hallowed Ground), through its fundraising appeals and in other media constitute a significant investment by the organization in time and resources. These maps are widely respected throughout the Civil War community for their veracity, attention to detail and overall excellence. Due to their distinctive look and feel, they are easily recognized and have become an integral part of the American Battlefield Trust brand identity. This inextricable association with our organization and its missions of land preservation and education means that, to the general public, the appearance of a American Battlefield Trust map in a publication not produced by the organization is tantamount to an official endorsement of that project.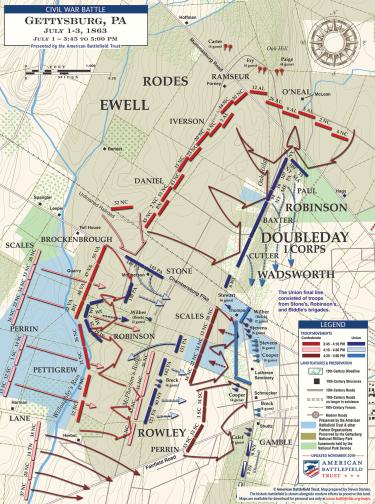 As such, the American Battlefield Trust must be selective about the products to which it gives reproduction rights for these maps, since their use has direct bearing on the organization's overall reputation. Permission is a statement in our confidence of the product's quality and compatibility with our preservation mission, a judgment that can be difficult to reach in the case of individuals and organizations with which we do not have previous familiarity.
Permission will typically be granted in writing under the following circumstances, at the discretion of senior members of the Trust staff. In all instances, appropriate credit to the American Battlefield Trust, including a link to the American Battlefield Trust website, Battlefields.org, is required. Permission is granted only for use of maps in their entirety - they cannot be modified except in size.
Nonprofit or other American Battlefield Trust-approved partner groups: For educational purposes or to advance a preservation project in conjunction with the Trust.
Historical texts: Historians who have donated their time and efforts to American Battlefield Trust projects, particularly the creation and vetting of maps or text.
Academic uses: Teachers seeking classroom aids or students producing independent research projects.
Since our maps are as often as closely associated with our organization as the American Battlefield Trust logo, we regret that we are typically unable to grant permission to individuals and organizations with which we do not have an existing prior relationship, such as those situations outlined above. These requests will be reviewed individually and exceptions may be made for projects of exceptional merit or in extraordinary circumstances, but such cases are rare.
To make a map use request please write us at web@battlefields.org