William Blackstone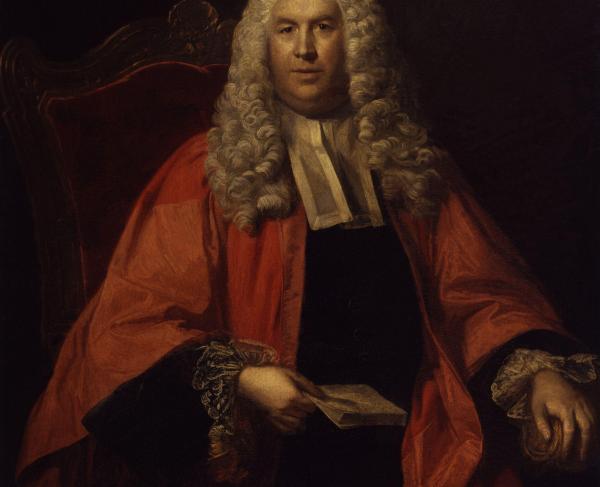 TitlePolitical Philosopher
Date of Birth - DeathJuly 10, 1723 - February 14, 1780
Born to an middle-class English family in 1723, the political philosopher William Blackstone began his academic pursuits as a poet before his fascination with politics and law. At age six, he matriculated at Charterhouse School where he studied the works of Ovid and Virgil and wrote his own poetry. The premature death of his parents and the decline of their family's wealth threatened Blackstone's studies, but Charterhouse School allowed him to remain as a "poor scholar." At age fifteen, Blackstone entered Pembroke College at Oxford University where his studies expanded to encompass science, logic, rhetoric, mathematics, geography, Latin, and Greek.
After a year and a half at Oxford, Blackstone abandoned his pursuit of a Bachelor of Arts degree and entered a rigorous civil law program. He also published several works of poetry and two short treatises on governing principles during this time. Blackstone received his call to the Bar on November 28, 1746 and began his legal career in both Oxford and London. A slow start to his career afforded Blackstone the ability to join the administration of All Souls College at Oxford. He served as an accountant and treasurer to the college as well as helped revise its complicated and arduous accounting system.
In 1753, Blackstone resigned his position as a barrister and entered the lecture circuit. He gave some of the first speeches on English law and garnered a small fortune. The success of his lectures led him to write his first full legal commentary, An Analysis of the Laws of England, which received tremendous acclaim and helped build the foundation of Blackstone's future writing and career. Six years later in 1759, he accepted a position as the first Vinerian Professor of English Law at Oxford, established by English jurist Charles Viner before his death. The young philosopher's newfound fame, however, allowed him to return to the bar and secure election as a Tory member of Parliament in 1761.
By 1765, he published another treatise called Discourse on the Study of Law and the first volume of Commentaries on the Laws of England which is considered to be his seminal work. The next three volumes followed in 1766, 1768, and 1769, heralded by both scholars and commoners alike. Blackstone's Commentaries were republished five times in the 1770s and sold over 1,000 copies in the American colonies. Following his crowning achievement, the philosopher received an appointment as a Justice of the Court of King's Bench in 1770 but abandoned that position to fill a vacancy in the Court of Common Pleas later that year. He remained in that position until his death on February 14, 1780.
Blackstone's legacy as a political philosopher greatly influenced the Revolutionary generation of the United States. Individuals like John Adams, Alexander Hamilton, John Jay, and John Marshall drew inspiration from his works. Though Thomas Jefferson criticized some parts of the Commentaries, he acknowledged that Blackstone accomplished "more towards the suppression of the liberties of man, than all the millions of men in arms of Bonaparte." In fact, Jefferson probably found inspiration for the language of the Declaration of Independence in the philosopher's description of the rights of Englishmen under the British Constitution. Even after the Revolution, William Blackstone's philosophies continued to impact American government into the nineteenth and twentieth centuries. The Commentaries profoundly impacted the legal career of Abraham Lincoln, and justices cited them in numerous Supreme Court decisions.