Victoria Woodhull
A pioneer of women's rights and the United State's first female presidential candidate.
TitleWomen's rights pioneer; first female U.S. presidential candidate
Date of Birth - DeathSeptember 23, 1838 - June 9, 1927
Born on September 23, 1838, in Homer, Ohio, Woodhull was one of ten children born into a life of poverty. Woodhull's mother was illiterate, and her father was a criminal. Victoria did not begin elementary school until the age of eight, dropping out three years later. She surrendered any opportunity of higher education when she married Dr. Canning Woodhull— a hopeless drunkard— at the age of fifteen. Victoria's burden increased when she gave birth to a handicapped son in 1854. To compensate for her husband's alcoholism and provide for her son, Victoria worked several jobs outside of the home including a clerk, seamstress, actress, and spiritual medium. 
At the precipice of the Civil War's onset, Woodhull divorced her husband but kept his surname. The divorce prompted Woodhull's involvement in the Free Love movement— a movement centered on making it easier for women to escape abusive marriages by arguing that divorce, birth control, and prostitution were the sole concern of individuals, not the state. Most notably, Woodhull claimed, "Let women issue a declaration of independence sexually, and absolutely refuse to cohabit with men until they are acknowledged as equals in everything, and the victory would be won in a single week." 
During the Civil War, Victoria worked with her sister as a healer. Woodhull made two crucial connections while working in this position. First, she met Colonel James Blood— a commander of the Sixth Missouri Volunteers— whom she would marry after the war's end. Second, Woodhull established relations with Cornelius Vanderbilt— an exponentially wealthy railroad tycoon. In 1868, Woodhull and her sister moved to New York City where they continued to work for Vanderbilt as clairvoyants. The duo received stock tips valued at approximately $700,000 dollars in six weeks that provided security during the 1869 gold panic. In 1870, the sisters opened Woodhull, Claflin & Co, effectively making them the first female stockbrokers on Wall Street. Woodhull utilized this platform to advocate for women's rights, laborers, and the poor on a larger stage. In the early 1870s, Victoria started Woodhull and Claflin's Weekly— a newspaper centered on Free Love, women's suffrage, and political reform.
Woodhull's most important achievement in politics was undoubtedly her presidential candidacy in the 1872 election. Running on the Equal Rights Party ticket, Woodhull advocated for women's suffrage, regulation of monopolies, nationalization of railroads, an eight-hour workday, direct taxation, abolition of the death penalty, and welfare for the poor. Woodhull selected Frederick Douglass as her running mate, though he never acknowledged his name on the ticket. In the end, Woodhull barely competed against Republican Candidate Ulysses S. Grant and Liberal Republican Horace Greely. Her total votes were so insignificant that they were not even counted in numerous states. Nonetheless, Victoria Woodhull broke ground as the first female presidential candidate.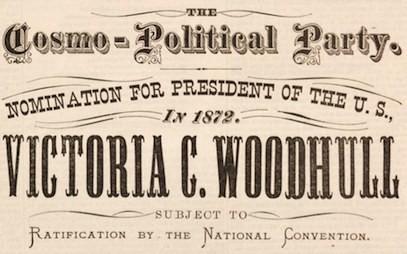 Woodhull met her demise in the political arena following the 1872 election. The release of embarrassing details regarding her private life, her tabloid-like reporting in Woodhull and Claflin's Weekly, and her infatuation with the limelight fractured Woodhull's relations with prominent figures such as Susan B. Anthony and Elizabeth Cady Stanton. Woodhull received no further invitations to speak at suffrage conventions despite her impressive resume. 
This fallout prompted Victoria Woodhull to expatriate and move to England in 1877. Upon arrival, she married into a wealthy family and spent her days as a patron of fine arts. Though she never saw her efforts as an activist come to fruition in America, Woodhull lived to see the acquisition of women's suffrage in Great Britain. She passed away on June 9, 1927, at the age of 88.