Richard James Oglesby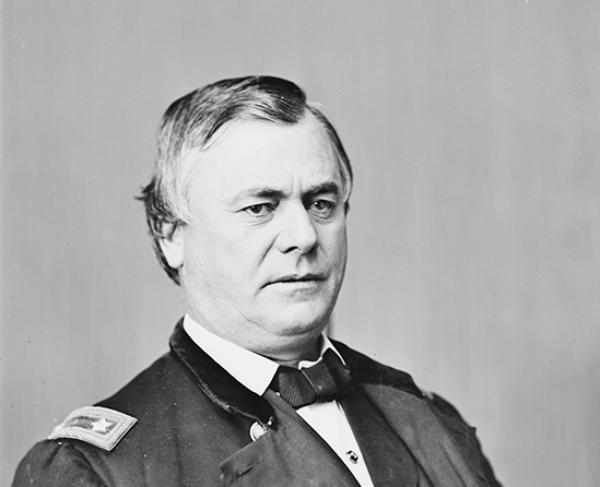 TitleMajor General
War & AffiliationCivil War / Union
Date of Birth - DeathJuly 25, 1824 - April 24, 1899
Richard James Oglesby was a statesman and three-time governor of Illinois who also served as a Union General during the Civil War.  He is best known for his successful branding of candidate Abraham Lincoln as the "rail-splitter" in the pivotal presidential campaign of 1860.
Born on July 25th, 1824 in Oldham County, Kentucky, Oglesby later moved to Decatur, Illinois to live with relatives after cholera took the lives of his mother and father.
Oglesby met fellow Kentucky transplant Abraham Lincoln in 1840 and the two became lifelong friends and political allies. Oglesby's life would continue to be landmarked by historic personas and events as he fought in the battles of Cerro Gordo and Vera Cruz during the Mexican War and mined a small fortune in the 1849 gold rush.
Oglesby was elected to the Illinois senate in 1860 and, in that same year, effectively orchestrated Lincoln's presidential campaign by boosting Lincoln as the candidate of choice for the common man. Oglesby coined the slogan "Abraham Lincoln-The Rail Splitter Candidate" at the Illinois State Republican Convention and this popular image of Lincoln as a man of free labor and friend of the people defined Lincoln long after his election.
As outrage over Lincoln's election spurred Southern secession and then war, Oglesby resigned his senate seat to lead the 8th Illinois Volunteer Infantry Regiment. Known fondly as "Uncle Dick" by his men, Oglesby fought heroically in the battles of Fort Henry and Fort Donelson in February of 1862. Capturing the forts opened up the Cumberland and Tennessee Rivers to Union control and ensured that Kentucky would remain in the Union.
Soon after Forts Henry and Donelson, Oglesby was promoted to brigadier general. He led a brigade during the Siege of Corinth in 1862 and was severely wounded at the Battle of Corinth that October. Soon after Corinth, Oglesby was promoted to major general for his distinguished military service.
Oglesby convalesced and returned to duty in the spring of 1863.  In 1864, he resigned his commission and ran for governor of Illinois at President Lincoln's request.  He surpassed rival Congressman James Robinson by a wide margin. 
While governor, Oglesby corresponded and frequently met with President Lincoln. On April 14th, 1865, Oglesby spent the afternoon with Lincoln and declined Lincoln's invitation to accompany him to Ford's Theater. Later that evening, Oglesby was called back to the President's side at the Peterson House, where, in the early hours of April 15th, Oglesby witnessed the death of an American president and his good friend. 
In the years following Lincoln's death, Oglesby presided over the National Lincoln Monument Association and, along with President Grant, gave an opening speech at the monument's dedication in Springfield, Illinois in 1874.
Oglesby served three non-consecutive terms as governor of Illinois until 1884.  Ten years after retiring from public life, Oglesby was laid to rest in Elkhart, Illinois on April 24, 1899.