Peter Slater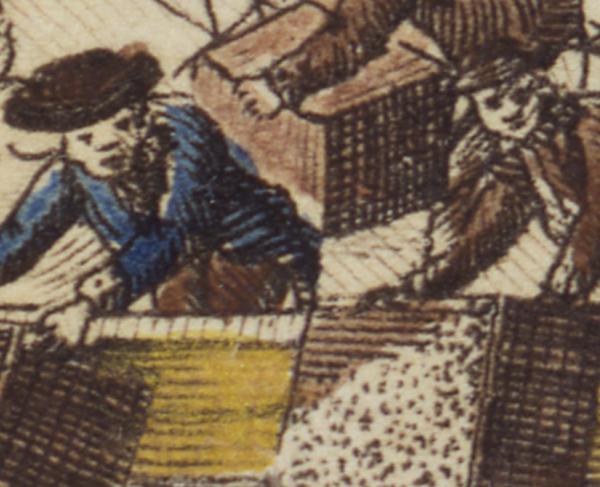 TitleRope Maker; Soldier
War & AffiliationRevolutionary War / Patriot
Date of Birth - DeathMay 2, 1760 – October 13, 1831
Peter Slater, Jr. strove to uphold America, patriotic ideals his entire life. Slater was an English immigrant living in Boston and was thirteen years old during the Boston Tea Party. 
In the years before the Boston Tea Party, Slater was involved in conflicts with British soldiers in Boston. This insolent disposition was illustrated by his escapades on December 16, 1773. He was among the crowd at the Old South Church. At the time, Slater apprenticed for a rope walk, and his liege was suspicious of a plot regarding tea, so he locked him in his room so that he would not be able to participate in any suspected wrongdoings. Slater, determined to be involved in the patriotic cause, snuck out of his room through a window and lurked to a blacksmith where someone, undercover in costume, instructed that Slater used charcoal to paint his face and put on a handkerchief, joined with approximately twenty other people who went with the undercover man. In silence, Slater, along with five other dissenters, mounted The Beaver in Boston Harbor and assumed their positions— two people grabbed the tea, two people dumped the tea, and Slater and a partner used posts to submerge the tea. Still in an unspoken tension, they successfully destroyed the tea and disbanded once they reached Griffin's Wharf again. 
When he was sixteen years old, Slater observed the Battle of Bunker Hill happen, and shortly thereafter traveled to Worcester from Boston to join the military. Slater spent three years under Major William Treadwell's command in an artillery unit. Slater's commitment to patriotic ideals continued through his life.   
Slater married Zilpa Chapin, and the two raised four daughters and ten sons. He created a rope walk in 1806 in Worcester, mirroring the apprenticeship that he held as a teenager. Slater passed away on October 13, 1831.