Mercy Otis Warren
Satirist, Historian, Revolutionary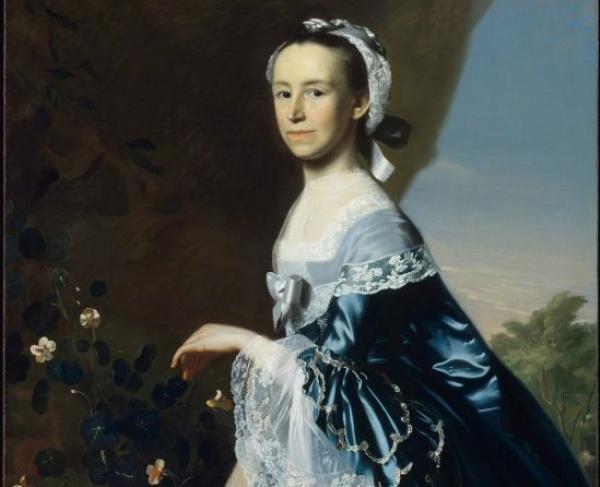 TitlePlaywright, Poet, Revolutionary
War & AffiliationRevolutionary War / Patriot
Date of Birth - DeathSeptember 14, 1728 - October 19, 1814
During the American Revolution, women served many crucial roles in the domestic sphere of America, but few were able to breach into the public and political world dominated by men. Mercy Otis Warren was one of the few women who broke the mold during a time when women were expected not to participate in political matters. She worked as a poet, political playwright, and pamphleteer to become the leading female philosopher of the Revolution and new nation. 
Mercy Otis Warren was born on September 14, 1728, in West Barnstable, Massachusetts as the first daughter and third of thirteen children of prominent parents. Her mother, Mary Allyne, came from a wealthy family and was a descendant of a Mayflower passenger. Her father, Colonel James Otis Sr., was a farmer, attorney, and eventually a member of the Massachusetts House of Representatives. As a young woman, Mercy learned all the subjects available to women in colonial-era America that women were expected to learn including cooking, sewing, and managing a household. However, she preferred to spend her time with her brothers, who were getting a formal education through a tutor. When Mercy turned nine, with her father's permission, she began to attend classes with her brothers, listening in to lessons given by their tutor and uncle Reverend Johnathan Russell.  
As she grew, Mercy remained close to her older brother James. They had many conversations about their education or politics and other current events taking place in Massachusetts. Even as James left to attend Harvard, they continued to correspond, and in his letters he encouraged her continual learning, treating her as an equal and confidant. Mercy had support from all the men in her life to think progressively and with "revolutionary ideals," including her husband, James Warren. A merchant and farmer with similar ideals, Mercy married Warren on November 14, 1754. He would eventually become sheriff, a member of the Massachusetts House of Representatives, and Speaker of the House of the Massachusetts Provincial Congress, allowing Mercy access into the politics of the Revolution.
Mercy was well attuned to the changing political climate as the revolution drew near. She continued to correspond with her brother about the events taking place in the colonies and discuss their political ideals. However, in 1769, James Otis was attacked by a British customs officer in a brawl that damaged his brain causing him to suffer from mental health issues for the rest of his life. When he could no longer correspond, Mercy picked up her pen and continued to correspond with several notable revolutionaries including George and Martha Washington, Abigail and John Adams, Hannah Winthrop, Patrick Henry, and Catharine Macaulay to which she wrote regularly. In one letter, she wrote, "every domestic enjoyment depends on the unimpaired possession of civil and religious liberty." In addition to writing letters, the Warrens were also active in the 1760s supporting the revolution by hosting gatherings for like-minded individuals at their Plymouth home, boycotting British goods, and supporting social protests including the Boston Tea Party in 1773.  
With the encouragement of her husband, Mercy took her writing public, writing her political observations into satires and pamphlets that were published in local Massachusetts newspapers such as the Massachusetts Spy and Boston Gazette. Some of her earliest satires included The Adulateur (1772), The Defeat (1773), and The Group (1775), which propagated British officials as enemies of liberty. Many of these plays featured a character known as "Rapatio" an arrogant official modeled after Massachusetts Royal Governor, Thomas Hutchinson, with his monologue:
Yet to succeed beyond my sanguine hope, to quench the gen'rous flame, the ardent love, of liberty in SERVIA'S freeborn sons, destroy their boasted rights, and mark them slaves, to ride triumphant o'er my native land, and revel on its spoils.
Throughout many of Warren's plays, she warned that "a day might come when murders, blood and carnage shall crimson all these streets." A few years later, The Blockheads (1776) and The Motley Assembly (1779) were published anonymously criticizing Bostonians who were still loyal to the British Crown after the Declaration of Independence.
Mercy Otis Warren's career did not end with the American Revolution, as she continued to publish plays, poems, and histories. Some of her earliest works included Poems, Dramatic, and Miscellaneous, a series of political poems and short plays, as well as Observations on the new Constitution, and on the Federal and State Conventions, in which Warren criticized the ratification of a Constitution without a Bill of Rights, arguing a constitution alone would:
Betray the people of the United States into an acceptance of a most complicated system of government, marked on the one side with the dark, secret and profound intrigues of the statesman … and on the other, with the ideal project of young ambition … to intoxicate the inexperienced votary.
One of her most notable works is the History of the Rise, Progress and Termination of the American Revolution, published in 1805. The three-volume collection discusses the Revolution beginning with the stamp acts all the way into the years following the revolution.  While she was not allowed to actively engage in politics, she was an Anti-Federalist and Jeffersonian Republican, reflected in writings:  
America has fought for the boon of liberty. She has successfully and honorably obtained it: she has now a rank among the nations. It was now the duty of the wise and patriotic characters who had by inconceivable labor and exertion obtained the prize to guard on every side that it might not be sported away by the folly of the people or the intrigue or deception of their rulers. They had to watch at all points that her dignity was not endangered, nor her independence renounced by too servilely copying either the fashionable vices or the political errors of those countries where the inhabitants are become unfit for any character but that of master and slave.
Her history highly praised George Washington as a military leader but criticized his actions in office and criticized her friend John Adams for his Federalist views. This ultimately resulted in a rift in their friendship that was not be reconciled until shortly before her death. While the series did not sell well in its time, it is a significant primary resource filled with insights into prominent historical figures and footnotes that many historians still use today.
In 1814, Mercy Otis Warren died at age eighty-six in her home in Plymouth, Massachusetts, and is buried at Burial Hill Cemetery. In an era where women were not able to be at the forefront of politics and public action, she broke through the barriers with her publications. These publications reflected her beliefs and political ideologies and inspired others to join the cause of the Revolution. They cemented her place in history as she was one of the first women to publish a nonfiction history of the American Revolution under her own name, as well as the third woman to publish a book of poetry. Her efforts established a precedent for forwarding female thinking that women would continue to follow for centuries.
Further Reading