Mary Virginia "Jennie" Wade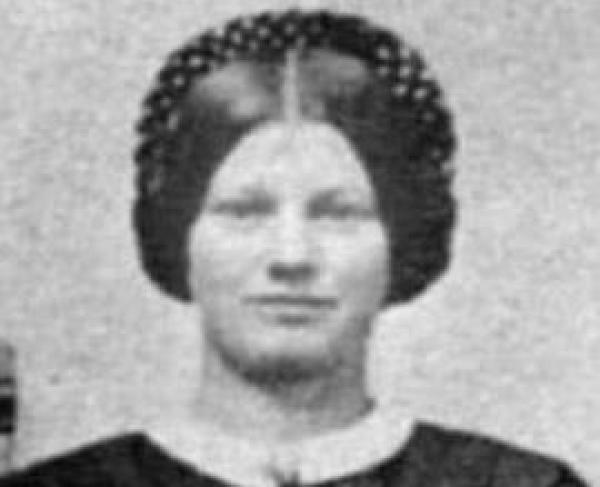 TitleCivilian
War & AffiliationCivil War / Union
Date of Birth - DeathMay 21, 1843 – July 3, 1863
On July 1st, 1863, the Union and Confederate armies converged at Gettysburg, Pennsylvania. There the opposing combatants engaged in the bloodiest battle ever fought on American soil. Bullet holes riddled houses, buildings of all makes were turned into makeshift hospitals to deal with the influx of wounded, and the dead began to pile up. Amongst this chaos, residents of Gettysburg sought any shelter that they could in an attempt to protect themselves from the deadly small arms and artillery fire. Unfortunately, the town was not unscathed, as a portion of the borough sat on the frontlines. On the morning of July 3rd, near 8:30 am, Mary Virginia "Jennie" Wade was shot dead while kneading dough in her sister's kitchen on East Cemetery Hill. She was the only civilian killed by fire during the Battle of Gettysburg.  
Jennie Wade was born in Gettysburg twenty years prior.  Her family most likely referred to her as "Ginnie" or "Gin," but printing errors after the war resulted in a variant spelling of her nickname being widely distributed. One of six children, she helped earn money for the family by becoming a seamstress with her mother, Mary Anne Filby Wade. Her father, Captain James Wade, Sr., was often absent from home and spent more time in jail than with the family. Jennie may have become engaged to her childhood friend Johnston "Jack" Skelly before the war since she had a photo of him in her pocket when she died. However, there was no official engagement announcements or a wedding before he enlisted in the 87th Pennsylvania Infantry, where he served as a corporal.  
Georgeanna, Jennie's sister who was known as "Georgia," also became engaged before the war and married her sweetheart in 1862. The couple moved into a 2-story red brick house at 548 Baltimore Street, Gettysburg, the house that later became known as the "Jennie Wade House." Her husband joined the Union Army as a private and was not in Gettysburg during the Battle of Gettysburg. He was also absent for the birth of their firstborn son on June 26, 1863. Four days after the birth, General John Buford's Union cavalrymen rode into Gettysburg. A day later, Jennie and her mother moved into Georgia's house to care for her and her new-born son and to, hopefully, be safe from the impending battle.  
While the Union Army was in Gettysburg, bullets pelted the side of their house. One bullet flew through the window of the house and hit a bedpost of the bed Georgia was lying in with her day's old son. An artillery shell also crashed through the roof and remained in the house for fifteen years, fortunately never detonating. Regardless, the family continued caring for the soldiers. On the morning of July 3rd, Jennie awoke earlier to fetch water and knead dough to make bread and biscuits. The dough she was kneading was destined to become bread for the soldiers. Unfortunately, a bullet flew through two closed doors and hit her in the shoulder. It lodged itself in her heart and got trapped in her body by the corset she was wearing. She died instantly. The dough that Jennie was kneading at the time of her death was also later baked into bread by her mother: it made 15 loaves to be distributed to Union soldiers.  Union soldiers helped wrap her body in a quilt and either brought her to the cellar or buried her in the backyard immediately. She was moved to the town's German Reformed Church in November 1865, and her body was eventually moved to Evergreen Cemetery, the site where President Abraham Lincoln delivered the "Gettysburg Address." In 1900, with tireless efforts from Georgia, Jennie was given a large gravestone and a perpetually raised American flag. It is one of the few sites in the United States with a perpetual raised flag in honor of a woman. Unknown to Jennie, her presumed fiancé Jack Skelly died nine days later from wounds sustained in the Second Battle of Winchester in June of 1863.  
Jennie was treated as a hero after her death for dying in the service to her country. Georgia's house became a tourist destination to those who visited the Gettysburg battlefield and is known as the Jennie Wade House today. In 1882, her mother successfully petitioned the government to grant her a pension for her daughter's death.