Lord Rawdon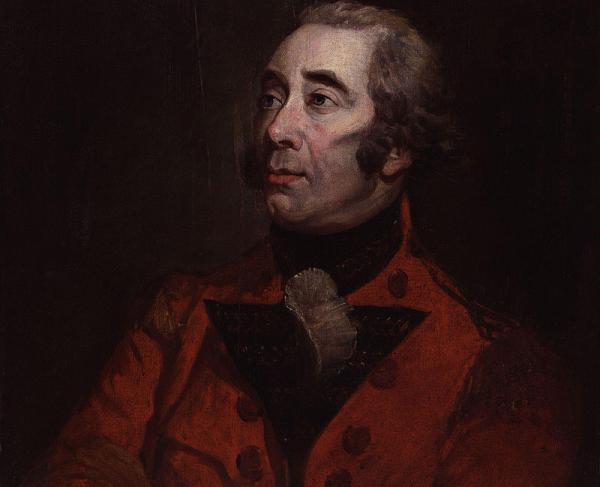 TitleGeneral; Commander-in-Chief of India; Governor of Malta; Governor-General of the Presidency of Fort William
War & AffiliationRevolutionary War / British
Date of Birth - DeathDecember 9, 1754 - November 28, 1826
A son of Ireland, Rawdon was born into greatness on December 9th, 1754 to Sir John Rawdon, first Earl of Moira, and Lady Elizabeth Hastings, daughter of the Earl of Huntington. After receiving his education from the prestigious Harrow, Rawdon began his military career as an ensign in the 15th Foot Regiment in August of 1771. He went on to enroll at Oxford but didn't finish his education as he saw the opportunity to pursue military advancement. Becoming a lieutenant in the 5th Foot Regiment in October of 1773, Rawdon set sail for America in May of 1774 and arrived in Boston by July.
He first found success at the Battle of Bunker Hill in June of 1775 when he took command of his company following the injury of his captain. A result of taking command successfully, Rawdon was promoted to captain in July of 1775 and given his own company with the 63rd Foot Regiment. By January of 1776 he was appointed aide-de-camp to General Henry Clinton, fighting alongside him at Charleston, Brooklyn, White Plains, and Fort Washington. Clinton became a mentor to Rawdon, relaying experienced insight on the art of war. After capturing Forts Clinton and Montgomery, Rawdon arrived in Philadelphia to deliver the good news to General Howe in October of 1777.
By 1778 Rawdon's mentor Clinton became Commander-in-Chief of the British North American forces. It wasn't long until Rawdon reaped the benefits of his friendship with Clinton when he received an appointment to command the Volunteers of Ireland as a colonel. Rawdon's role as aide-de-camp to Clinton was also reaffirmed but shortly after, in June, he was appointed Adjutant-General while achieving the military rank of Lieutenant Colonel. He then commanded his Irish regiment at the Battle of Monmouth Courthouse on June 20th of 1778 as British forces retreated from Philadelphia to New York. By June of 1779, relations between Clinton and Rawdon had soured on the basis of Clinton's criticisms of Rawdon's Irish volunteers. Rawdon resigned from his position of Adjutant-General in irritation.
Veering south, Rawdon later joined the Siege of Charleston in the spring of 1780. During the Battle of Camden in August, Rawdon commanded Charges Lord Cornwallis's left wing. After defeat at Cowpens, Cornwallis sought out northern territory, leaving Rawdon behind to defend both Georgia and South Carolina with a miniscule force. This force proved to be small but mighty as they defeated a larger group of Americans under General Nathanael Greene. For the remainder of the war, Rawdon's involvement was contained to southern and western territory.
In July of 1781, an ill Rawdon was aboard a ship heading to England when the vessel was overtaken by privateers. The ship became part of the American-allied French fleet under Admiral Comte de Grasse and Rawdon became a prisoner. He was eventually exchanged and returned to England in early 1782, where he was heartily welcomed for his service. Before he had returned home, Rawdon began his term in the Irish House of Commons in 1781, continuing until 1783. In March of 1783 George III honored Rawdon by deeming him a Baron. By 1789, Rawdon's mother had ascended to the barony of Hastings after death of Rawdon's brother, prompting Rawdon to add Hastings to his name.
In 1793, Rawdon-Hastings returned to military service to fight against the French, he became the Earl of Moira after the passing of his father, and he was appointed Major General. He began his decades-long service in the House of Lords in 1793 as well. An Irish native, he became an impassioned speaker on the issue of reform in the Irish administration and Catholic enfranchisement. Regardless of Rawdon-Hastings's political involvement, he continued to climb the ladder of military rank. By 1798 he had been promoted to lieutenant general and by 1803 he had been made a full general. In 1803 Rawdon-Hastings had also been deemed commander-in-chief of British forces in Scotland.
In November of 1812 Rawdon-Hastings was made Governor-General of India, overseeing war in a new part of the world.