John Campbell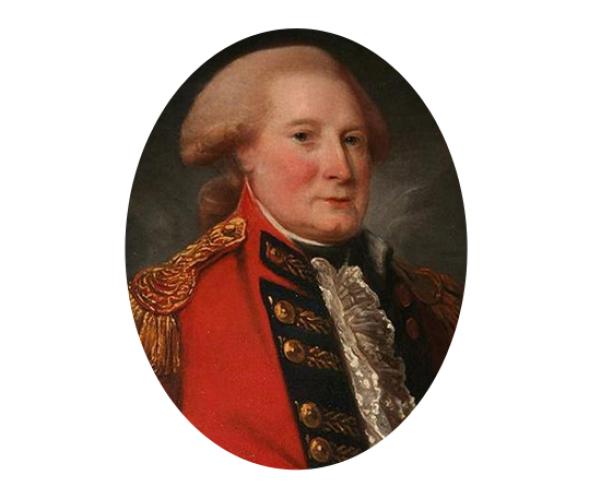 TitleGeneral
War & AffiliationRevolutionary War / British
Date of Birth - Deathc. 1727 - August 28, 1806
John Campbell was born in Argyll, Scotland in 1727. He is a descendant of the Strachur branch of Clan Campbell who claim to be descendants of King Arthur. John Campbell became John Campbell the 17th of Strachur when his father died.
Campbell began his military career in 1745 when he was appointed lieutenant in John Campbell, 4th Earl of Loudoun's Highlanders. He served in the British Army and saw action during the Jacobite Rising of 1745 and was promoted to captain two years later.
Campbell entered active service in 1756 during the Seven Years' War and joined the 42nd Royal Highland Regiment of Foot—also known as the Black Watch Regiment. He served in the French and Indian War and was promoted to major of the King's 17th Regiment of Foot, while recovering from being wounded in the Battle of Fort Ticonderoga in New York.
He returned to Ireland and was placed in command of the West Middlesex 57th Regiment of Foot in May 1773. Campbell and his regiment were then sent to the British Colonies in December 1775 to fight in the American Revolution.
Campbell and the 57th Regiment arrived in North Carolina, in May 1776, and attacked Charleston and Sullivan's Island, South Carolina by amphibious landing, but failed to invade the island. He and his men were sent to Staten Island, New York in July of 1776. Campbell captured the fort at Paulus Hook, New Jersey—which remained a British stronghold for most of the war.
On October 6, 1777, his unit participated in the attack on Fort Montgomery on the Hudson River in New York—suffering many casualties. After his return, Campbell was sent to Pensacola and promoted to brigadier general. Campbell arrived in Pensacola and sent troops to begin building a fort on the Mississippi, on the other side of the Gulf coast.
Campbell called for reinforcements and Loyalist troops were sent from Pennsylvania and Maryland with some Native American forces and a band of cavalry. He was given authority over all troops in West Florida in March of 1779, after being promoted to Major General.
In June of 1779, Spain declared war on Britain and Campbell was given authority to plan an attack on New Orleans—which was in Spanish possession. Plans for the attack were intercepted by Bernardo de Gálvez, governor of Spanish Louisiana and supporter of the Patriot cause. Gálvez launched an attack on the British and captured much of western West Florida before Campbell could counterattack.
The Spanish siege of Pensacola began in March 1781. Despite not having artillery or naval protection, Campbell and his troops held Fort George until Spanish and French naval and ground forces arrived in April of 1781 and attacked the fort. Spanish artillery bombarded Pensacola, forcing Campbell to surrender on May 10, 1781. Gálvez allowed Campbell and the British troops to return to New York, where he remained until the British signed the Treaty of Paris in 1783.
Campbell became Commander-in-Chief of British forces in North America in 1783 and held the post until returning to Scotland five years later. John Campbell died in Argyll, Scotland on August 28, 1806.