Johann Ewald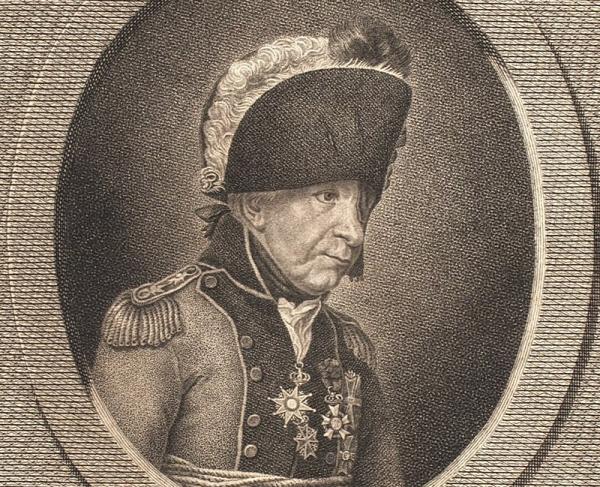 TitleCaptain
War & AffiliationRevolutionary War / British
Date of Birth - DeathMarch 20, 1744 – June 25,1813
Johann Ewald was a captain of the Hessian jager corps attached to the Leib Regiment, leading the 2nd Company under Colonel Carl von Donop for the first two years of his service in North America during the Revolutionary War. Born in the Hesse-Kassel region of the Holy Roman Empire (Germany) in 1744, he arrived in New York City in October 1776 and saw action at the Battle of White Plains. In December, he was attached to Donop's forces as they bivouacked in various towns south of Trenton, New Jersey. He participated in several engagements here, including the Battle for Mount Holly. In the spring of 1777, Ewald was instrumental in the planning of the assault to take the American garrison at Bound Brook, New Jersey on April 13. This failed attack nearly saw the capture of American Major General Benjamin Lincoln. In October 1777, Ewald was part of the failed attack on Fort Mercer at the Battle of Red Bank that killed his commander, Col. Donop. 
Ewald served around New York City in 1779 before being dispatched to aid in the siege and capture of Charleston, South Carolina, in May 1780. He returned to New York where he was soon attached to the Virginia expedition led by newly turned and commissioned British officer, Benedict Arnold. He was wounded in the knee at Norfolk on March 19, 1781. Ewald's jagers were among the forces who surrendered at Yorktown, Virginia in October 1781. He remained in New York on parole for the rest of the war and returned to Germany in April 1784. 
Ewald's wartime diary, available online, was discovered in 1979, and has become an invaluable source for scholars and historians. He was also a cartographer, offering several maps of his time in New Jersey. 
He later joined the Dutch Army and served as a general during the Napoleonic Wars.