Israel Bush Richardson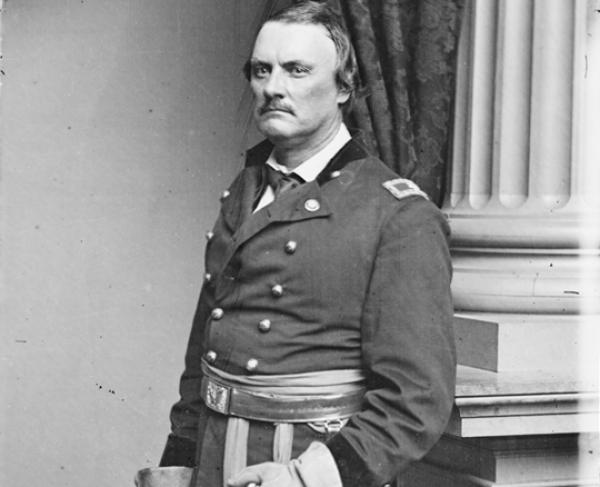 TitleMajor General
War & AffiliationCivil War / Union
Date of Birth - DeathDecember 26, 1815 - November 3, 1862
Israel Bush Richardson was born on December 26th, 1815 in Fairfax, Vermont. As a young man, Richardson attended West Point and graduated 38th out of 58 cadets in 1841. He served as a second lieutenant in the Second Seminole War in Florida. In 1843, after the Second Seminole War, Richardson befriended future Confederate General James Longstreet. During his time serving in the Mexican American War, Richardson was breveted twice for his actions at the battles of Contreras, Churubusco, and Chapultepec. After the Mexican American War, Richardson was stationed in frontier outposts in Texas and New Mexico territories. In 1850, while stationed in El Paso, Richardson met Rita Stephenson and married her in August of 1850. Unfortunately, Rita passed away while giving birth to their son Theodore Virginius Richardson. Theodore survived, but he also passed away only six months after his birth. In 1855, Richardson resigned his commission and began farming in Pontiac, Michigan due to his grief and heartbreak. 
Richardson took up arms once again in 1861, leaving behind his recently married second wife Fannie Traver. Richardson acted quickly and reenlisted in the United States Army, forming the 2nd Michigan Infantry regiment on May 25, 1861. Richardson was known throughout Union command as being tough, no-nonsense, fearless, and aggressive. Richardson and the 2nd Michigan were in combat at the Battle of Bull Run. After the battle, he was promoted to brigadier general. Richardson fought at the battles of Yorktown, Seven Pines, and the Seven Days' Battles during the Peninsula Campaign of 1862. After his valiant service in the Seven Days' Battles, he was promoted to major general on July 4th, 1862. He was given command of the First Division of the II Corps during the Northern Virginia Campaign at Second Battle of Manassas and once again at the Battle of South Mountain outside Sharpsburg, Maryland.  
On September 14th, just days before the Battle of Antietam, Richardson wrote to his wife one last time saying, "Now is the time to end war if the North turns out...Now, my dear, take good care of yourself, give my love to all the family, also to little P. [Philip] kiss him many times." On September 17th, 1862, Israel went into battle for one last time. Richardson led his men to the Sunken Road, known as Bloody Lane. As he was ordering his men, Richardson was struck by a shell burst from artillery ordinance. Richardson carried on after the injury in shock until his body gave out on the field. Longstreet, his long-time friend, ordered the bombardment on the position that Richardson was at, knowing Richardson was a fierce opponent. Richardson was taken to the field hospital located at Samuel Pry's mill where he waited to receive medical attention for four hours to allow his men's wounds to be tended to. After receiving initial treatment, he was taken into the Pry house and placed in a bedroom on the upper level for further observation of his wounds. General George B. McClellan had Dr. Horace, McClellan's personal doctor, and Dr. Johnathan Letterman to treat Richardson's wounds. The doctors believed that shrapnel had lodged into his lungs and feared that the wound would kill him. After some time, his wife ventured to Antietam to care for Richardson in his last moments. On October 4, 1862, President Abraham Lincoln personally visited Richardson and explained that if he were to recover then he would be promoted to General of the Army of the Potomac and replace McClellan. However, by the end of October and into November, Richardson developed pneumonia and succumbed to his wounds. On November 3, 1862, Israel Bush Richardson passed away from his injuries suffered at Antietam, being one of the six generals to be killed or mortally wounded at Antietam.  
Richardson's body was taken back to Michigan by his wife and laid in state at the Pontiac courthouse in Michigan. He was later laid to rest in Oak Hill Cemetery in Pontiac, Michigan, on November 11, 1862.  
Further Reading: