Hugh J. Kilpatrick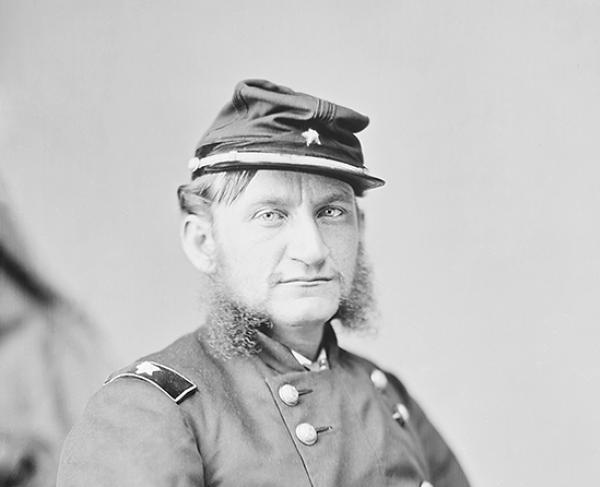 TitleMajor General
War & AffiliationCivil War / Union
Date of Birth - DeathJanuary 14, 1836 – December 4, 1881
Hugh Judson Kilpatrick, or Judson Kilpatrick as he was more commonly known, began his military career after graduating from the United States Military Academy in 1861 at the outbreak of the war.  On May 9, 1861, he became captain of the 5th New York Infantry after serving shortly as a commissioned second lieutenant.  On June 10, 1861, he became the first officer of the Union army to be wounded during the war, while leading men at the Battle of Big Bethel.  In September of 1861, he was promoted to Lieutenant Colonel of the 2nd New York Cavalry, and fought during the Battle of Second Manassas.  In December of 1862, he was promoted to Colonel.   In February of 1863, Kilpatrick took command of a brigade in the newly formed Cavalry Corps of the Army of the Potomac.  He led his brigade throughout the Chancellorsville Campaign, during which he harassed Lee's army and destroyed Confederate supplies.  He took part in most of the major engagements of Union cavalry in the Eastern Theatre, including battles at Beverly Ford and Stoneman's Raid.  During the Gettysburg Campaign, Kilpatrick took part in the largest cavalry battle of the war on June 9, 1863 at the Battle of Brandy Station.  On June 14, 1863, Kilpatrick was promoted to Brigadier General.  He commanded troops at the Battle of Gettysburg, and clashed with Confederate forces numerous times, including one charge after the failure of Pickett's Charge that led to great Union casualties amongst his ranks.  He continued to attack the Confederates forces throughout their retreat to Virginia.   
In February of 1864, Kilpatrick commanded the 3rd Cavalry Division during a very unsuccessful raid on Richmond intended to free Union prisoners of war.  This caused Kilpatrick to be transferred to the forces of General William T. Sherman.  He was wounded on May 13, 1864, at the Battle of Resaca during the early days of the Atlanta Campaign, but returned in July to continue harassing Confederate forces on Sherman's "March to the Sea" as well as during the Carolina Campaigns, where he accompanied General Sherman to surrender negotiations with Confederate General Joseph E. Johnston.  His reputation during the war for launching foolish cavalry charges and dangerous attacks led many to refer to Kilpatrick as "Kil-Cavalry."
After the war, Kilpatrick was involved in politics, and served as the United States ambassador to Chile.