Fitzhugh Lee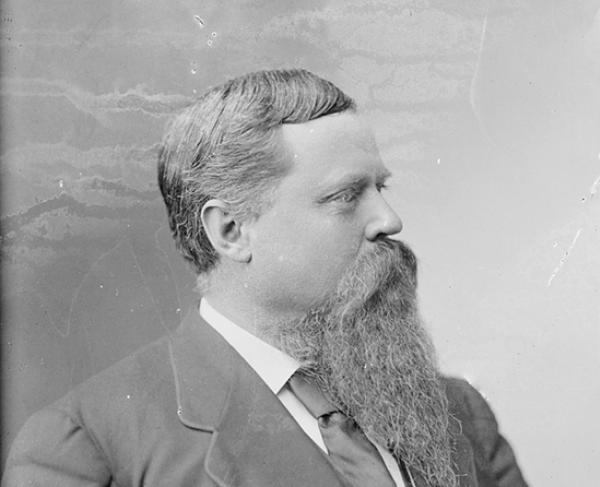 TitleMajor General
War & AffiliationCivil War / Confederate
Date of Birth - DeathNovember 19, 1835 – April 28, 1905
The nephew of General Robert E. Lee, Fitzhugh Lee was born in Fairfax County, Virginia on November 19, 1835.  He was the son of Sydney Smith Lee, who would later become a captain in the Confederate States Navy. Although close to his famous uncle, Lee is remembered as one of the South's finest cavalry commanders. Lee attended the U. S. Military Academy at West Point, graduating in 1856.  After graduation, Lee fought as a cavalry officer in the Indian wars where he was severely injured. Following his recovery, he taught cavalry tactics at West Point and in 1861, when the Civil War began, he resigned his commission as 1st lieutenant in the U.S. Army.
He entered the Confederate Army as a lieutenant in the cavalry and served as a staff officer under General Richard S. Ewell. Within a short time he transferred to command of the 1st Virginia Cavalry under Major General J.E.B. B. Stuart. At the age of twenty-seven, he was promoted to brigadier general on July 24, 1862.  As a cavalry brigade commander, Lee performed well in the Maryland Campaign, covering the Confederate infantry's withdrawal from South Mountain, delaying the Union Army advance to Sharpsburg, Maryland, before the Battle of Antietam, and covering the army's recrossing of the Potomac River into Virginia. He conducted the cavalry action of Kelly's Ford (March 17, 1863) with skill and success, where his 400 troopers captured 150 men and horses with a loss of only 14 men. In the Battle of Chancellorsville in May 1863, Lee's reconnaissance found that the Union Army's right flank was "in the air", which allowed the successful flanking attack by Maj. Gen. Thomas J. "Stonewall" Jackson.  During the Battle of Gettysburg, his brigade fought unsuccessfully in the action at East Cavalry Field. J. E. B. Stuart's report singled out no officer in his command for praise except Fitz Lee, who he said was "one of the finest cavalry leaders on the continent, and richly [entitled] to promotion."
Following Gettysburg he fought under General Jubal Early in the Shenandoah Valley and was severely wounded during the Third Battle of Winchester. As the war neared an end and following the death of J. E. B. Stuart, he became General Robert E. Lee's Cavalry Corps commander.
After the war he spent many years as a farmer before entering politics, serving as the governor of Virginia from 1885 to 1889. Following this he served as consul general in Havana, Cuba from 1896 to 1898. When the Spanish-American War was imminent, he joined the U.S. Volunteer Army, entering as a major general in command of the VII Corps. He retired from the military in 1901.
He spent his postwar years in politics and farming.  Fitzhugh Lee died in Washington, DC on April 28, 1905.