Elizabeth Van Lew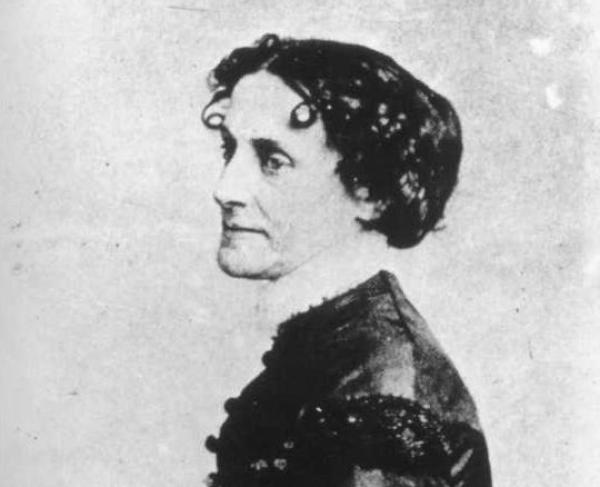 TitleSpy
War & AffiliationCivil War / Union
Date of Birth - DeathOctober 12, 1818 – September 25, 1900
Elizabeth Van Lew was born on October 12, 1818, in Richmond, Virginia to two north-born parents. Her mother Eliza Louise Baker Van Lew was born in Philadelphia, Pennsylvania and her father John Van Lew was born in New York. Regardless of their origin, the family integrated themselves into Richmond's high society. John was a "hardware" salesman and sold items ranging from hammers to pens and amassed a large income. Eliza was the perfect housewife and host at the family's, now demolished, mansion in the high-class neighborhood of Church Hill.  
For her education, Elizabeth was sent to a Quaker school in Philadelphia, PA or Princeton, NJ. This Northern education may have been the root to her anti-slavery politics and Northern support later in life. She returned to Richmond to be presented as a Southern "belle" and be introduced to Richmond's high society. While she was active in the Richmond's society scene, she never married.  
Both mother and daughter held anti-slavery sentiments and practiced multiple methods of giving their slaves independence and financial autonomy in a state with difficult to navigate slave laws. Throughout the 1850s and 1860s, they allowed their slaves to live elsewhere and work for an income. "Mary Jane," an African American girl who was owned by the family, was baptized in Van Lew's home church of St. John. She was subsequently sent to gain an education in Princeton, NJ, and the Van Lew's paid her way to and from Liberia while she was a missionary there from 1855 to 1860. During this time, they toed the line between their more radical politics of abolition and maintaining their position in high-class society within a slave holding state and city. 
With the outbreak of the Civil War, Elizabeth and Eliza had to be more cautious with these dueling ideals. Libby Prison, which was an old tobacco factory turned prisoner-of-war jail, was located on the outskirts of Richmond. Elizabeth and Eliza convinced General John H. Winder to allow them to bring food and provisions to the Union soldiers imprisoned there under the guise of female benevolence. With this position, they were able to pass messages to and from the prison, help prisoners access extra food and water, and helped prisoners escape at a great financial and social expense to themselves. Meanwhile, they staged public outings where they were seen helping Confederate soldiers and even boarded the Confederate prison warden Captain George C. Gibbs in their home to expunge suspicion that they were Union sympathizers.  
In December 1863, General Benjamin Butler heard of Van Lew's aid in helping escaped Union Soldiers. He recruited her as a spy for the Union army. Throughout the war she amassed a spy network of 12 people, both black and white, to help her collect information from the Confederates to bring to the Union. One prominent spy was the Van Lew former slave "Mary Jane," who had used multiple pseudonyms over the course of her life including "Mary Jane Richards," "Mary J. R. Garvin," "Mary Denman," and "Mary Bowser."  
While she was conducting espionage operations, she was still involved with Libby Prison. On March 1, 1864, Brig. Gen. Judson Kilpatrick and Col. Ulric Dahlgren attempted to free the prisoners as part of the ill-fated Kilpatrick-Dahlgren Raid. Dahlgren was killed and his body was hung on display by the railroad depot and then secretly buried. Using her spy network, she was able to locate the secret burial, recover the body, and rebury it a safe location so it could be given to Dahlgren's family at the conclusion of the war. 
Elizabeth's efforts during the war gave her acknowledgment from General Ulysses S. Grant and a small stipend for her efforts. However, this stipend did not cover the costs she endured during the war. In addition, she never recovered her social standing and she was branded as a "spy" and a "traitor" by the high-class she had used to associate with. Many labeled her as "crazy," "eccentric," and "mad," which garnered her the nickname "Crazy Bet" later in life and in death.  
After the war she became Postmaster of Richmond during Grant's presidency from 1869-1877. With this office, she promoted progressive ideas like Women Suffrage and Civil Rights. Throughout her tenure, she hired many African Americans and women to posts previously held by white men. From 1883-1887, she was a clerk in the postmaster's office, but quit when she was demoted and paid less than men in a similar position.  She died in 1900 but leaves behind a legacy as an effective spy and an essential asset to the Union Army.