Edward Hand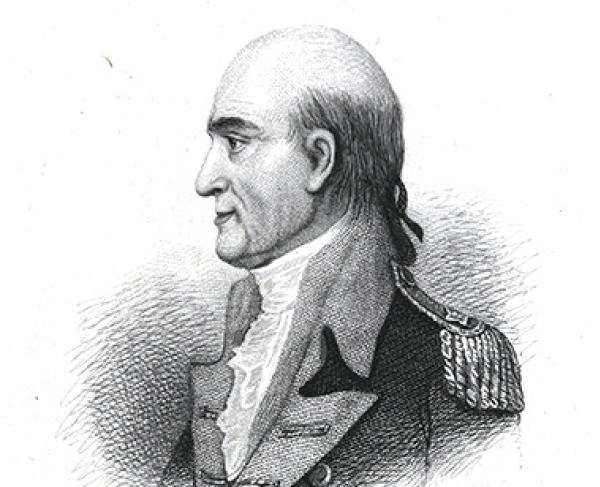 TitleBrevet Brigadier General
War & AffiliationRevolutionary War / Patriot
Date of Birth - DeathDecember 31, 1744 - September 3, 1802
Edward Hand was born in Ireland in 1744 and educated at Trinity College in Dublin, where he studied medicine. He decided to put his medical education to use in the British Royal Army, joining as a soldier in the 18th (Royal Irish) Regiment of Foot, in which he served as a surgeon mate.
Hand started the American Revolution as an ensign stationed at Fort Pitt, Pennsylvania (modern day Pittsburg). By 1774, he had resigned his commission in the British Army and settled down in Lancaster, Pennsylvania to practice medicine. Hand soon returned to military life, however, joining a battalion of Pennsylvania riflemen in the Continental army. Entering as a lieutenant colonel, he soon earning a promotion to colonel in the 1st Continental Regiment. As colonel, Hand was indispensable in delaying the British forces invading Manhattan's Throg's Neck peninsula in 1776. Amazingly, he and twenty-five Patriots managed to defend their position against 4,000 Royal troops, allowing Washington's force to reach a more defensible location.
Eventually rising up the rank to a position as brigadier general, Hand found himself back at Fort Pitt, where he engaged Loyalist and Indians in Ohio country. He found it difficult to distinguish friend from foe on the frontier, especially in regard to friendly Indian tribes. In 1778, he attacked the neutral Lenape tribe, mistaking them for a pro-British force and sparking renewed hostilities.
In February 1781, Hand became adjutant general of Washington's army and handled provisions and casualties at Yorktown. He resigned from the army in November 1783 but not before receiving one last promotion to brevet major general. He died on September 4, 1802 of an undetermined illness.