Earl Van Dorn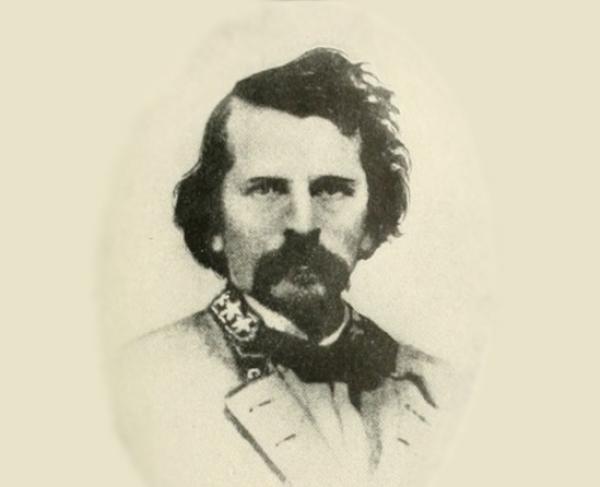 TitleMajor General
War & AffiliationCivil War / Confederate
Date of Birth - DeathSeptember 17, 1820 – May 7, 1863
Earl Van Dorn began his military career after graduating 52nd out of 56 from the United States Military Academy in the class of 1842.  He first served in several posts throughout the Southern United States, before being sent to Texas and then Mexico during the Mexican-American War.  He saw combat during the battles of Monterrey and Vera Cruz, and received brevet promotions up to major for his participation in the battles of Cerro Gordo, Mexico City, Contreras, and Churubusco.  After the war, he was once again sent to outposts in the South, and took part in action against the Seminole Indians from 1849 to 1850.  He also fought several engagements in the West against Comanche Indians from 1858 to 1859.
At the outbreak of the Civil War, he resigned from the United States military and was appointed a brigadier general of the Mississippi Militia on January 23, 1861.  He resigned this commission however, and was made a brigadier general in the regular Confederate army on June 5, 1861.  He was first sent west to Texas, where men under his command helped capture U.S. Army soldiers in the state before they could make it North.  He was promoted to major general on September 19, 1861, and was briefly transferred to Virginia, where he was made commander of the Army in the West in the Trans-Mississippi Theatre.  His first major action of the war came at the battle of Pea Ridge, where Union forces under General Samuel R. Curtis defeated Van Dorn's large Confederate force.  After his defeat, Van Dorn was transferred to the Army of the Mississippi, and commanded his troops during the battle of Corinth.  Van Dorn again did well during the initial stages of the battle, but misjudged the Union defensive position and was repulsed, forcing his men to retreat.  After this battle, Van Dorn was taken out of command of the army, and placed instead in command of the cavalry under General John C. Pemberton. 
Van Dorn's most impressive achievement came while in command of Pemberton's cavalry.  He led his troopers in action in December of 1862 against the supply depots of Union general Ulysses S. Grant located at Holly Springs, Mississippi.  Van Dorn's forces destroyed hundreds of thousands of dollars worth of supplies, and disrupted Grant's operations against Vicksburg.  After the battle, Van Dorn took part in several minor cavalry skirmishes until his death in May of 1863.  On May 7, 1863, George B. Peters shot and killed Earl Van Dorn after Van Dorn had allegedly committed adultery with Peters' wife.