Bruce Guthrie
Although he may not have been a media darling during much of his time in office, the 144 years since his death have turned Abraham Lincoln into an iconic figure. A C-Span poll of historians released in February 2009 crowned him the greatest president in American history, ranking him in the top three for each of 10 individual leadership characteristics.
Admiration of Lincoln, however, goes well beyond academic circles and has created something of a cult of personality surrounding our 16th president. Across the country a wide variety of historic sites with varying degrees of connection to his life and legacy promote their Lincoln ties, catering to heritage tourists eager to see all aspects of what shaped the Great Emancipator.
Many of these destinations are member sites of the Civil War Discovery Trail, a National Millennium Trail that teaches the story of the Civil War and its enduring impact on the America we know today by linking more than 600 sites in 31 states, the District of Columbia, and three international destinations. Although individual sites are independently owned and operated, the Discovery Trail is overseen and administered by the Civil War Preservation Trust.
The following are just a few of the dozens of Lincoln-related sites on the Discovery Trail, representing a cross-section of the wide variety of the locales where you can help commemorate the president's bicentennial year.
Kentucky
Lincoln Marriage Temple
Harrodsburg, Kentucky
On June 12, 1806, Thomas Lincoln and Nancy Hanks were married in a log cabin near Springfield, Ky. The union produced three children — Sarah, Abraham and Thomas, who died in infancy. The family later moved to Indiana and, eventually, Illinois — the state most frequently associated with all things Lincoln — but by the early 20th century, Kentucky had taken steps to memorialize the martyred president as a native son.
In 1911, the cabin was carefully disassembled and moved to a new location inside what is today Old Fort Harrod State Park, where it was rebuilt two years later. However, the cabin soon began to show its age and deteriorate under the onslaught of the elements. In 1931, on the 125th anniversary of the Lincolns' wedding, dignitaries from across the nation attended the dedication of the new brick "temple" surrounding the delicate building.
Today, visitors to the park can view original structure and visit a museum featuring Civil War artifacts and other Lincoln memorabilia.
Abraham Lincoln Birthplace National Historical Park
Hodgenville, Kentucky
This National Park Service-maintained park includes two areas depicting and preserving the area where Lincoln spent his earliest years. The "birthplace unit" includes 116 acres at Sinking Spring Farm, which was owned by Lincoln's parents at the time of his birth. A major attraction is the large marble Memorial Building that enshrines a one-room 19th-century log cabin, long believed to have been the actual building where Lincoln was born. In 2004 scientific testing verified that the cabin dated to no earlier than 1848, when Lincoln was serving his single term in the U.S. House of Representatives. Visitors, however, still appreciate the cabin's symbolism, representing the future president's humble beginnings.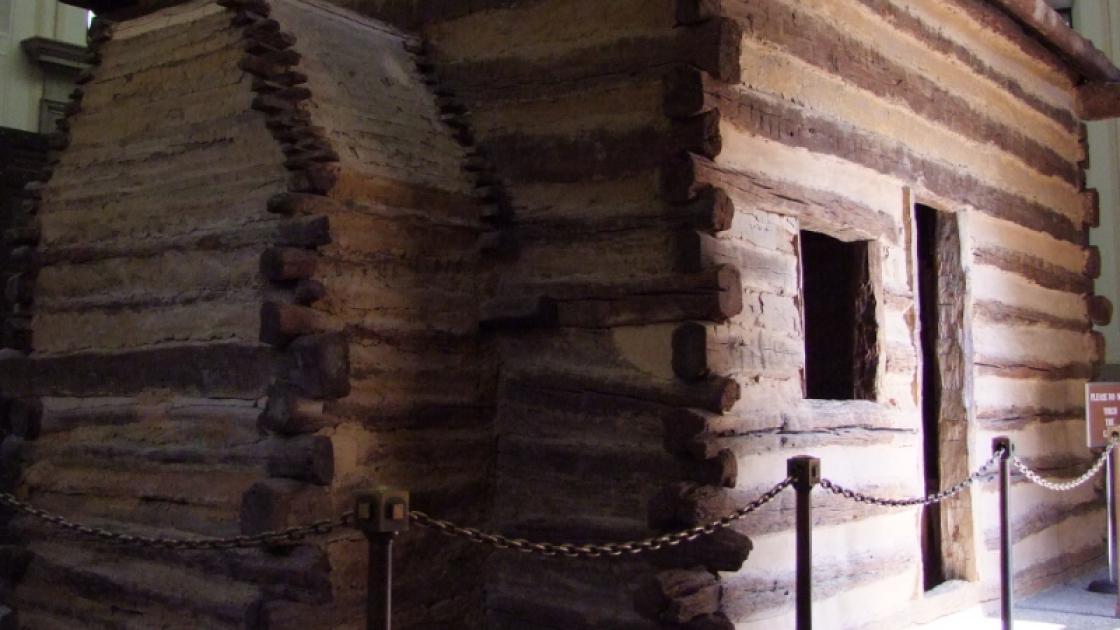 The Park Service also maintains land nearby at Knob Creek Farm, where the family moved when Lincoln was two, staying for six years. During his presidency, Lincoln noted that his earliest memories were of living at Knob Creek, planting a small garden with his sister Sarah, helping his father in the fields, fishing and picking berries. He also vividly remembered how, while playing near the swollen creek with a neighbor, he fell in and would have drowned if not for his quick-thinking playmate.
Indiana
Lincoln Boyhood National Memorial
Lincoln City, Indiana
After an 1816 court action cost the Lincoln family their property and savings, they decided to move across the Ohio River and make a new start in Illinois. While living here in 1818, Lincoln's mother died of a sudden illness and is buried in a cemetery on the property. One year later, Lincoln's widower father married Sarah Bush Johnson, herself a widow and mother of three, who quickly grew very close to her young stepson, encouraging his love of learning.
Today, in addition to the grave of Lincoln's mother, the Lincoln Boyhood National Memorial also includes a visitor center, walking trails, a memorial at the site of the family cabin and the Lincoln Living Historical Farm, a recreated 1820s-era pioneer homestead interpreted by living historians. The memorial building itself is decorated with five sculpted limestone murals depicting various phases and periods in Lincoln's life.
Lincoln State Park
Lincoln City, Indiana
The State of Indiana preserves an additional 1,747 adjacent acres as a state park commemorating a variety of events in Lincoln's youth, including the site of a general store where he was employed as a young man and the gravesite of his beloved sister, who died in childbirth. The park also contains a covered outdoor amphitheater that premiered a new play, "Lincoln," in June 2009 as part of the bicentennial commemoration.
Illinois
Lincoln Home National Historic Site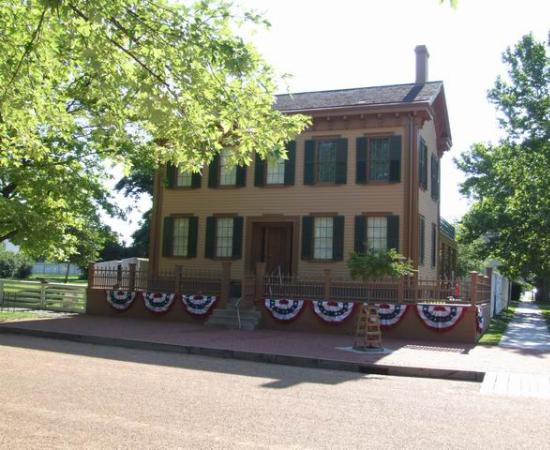 Springfield, Illinois
The only home Abraham Lincoln ever owned, a two-story brown structure on the corner of Eighth and Jackson Streets, served as the family home for 17 years. It was here that Abraham and Mary Todd Lincoln lived and raised their four sons, although only Robert, the eldest, lived to adulthood. From here Lincoln ran successful campaigns for public office and commuted to his law offices on the square facing the state capitol.
Lincoln's home stands at the center of a four-square-block area restored to its 1860s appearance. Visitors can tour the neighborhood, visiting the homes of Lincoln family friends and neighbors, including state auditor Jesse DuBois, a close friend who named his son after Lincoln, and Julia Sprigg, a friend of Mrs. Lincoln and mother of an occasional babysitter to the Lincoln boys.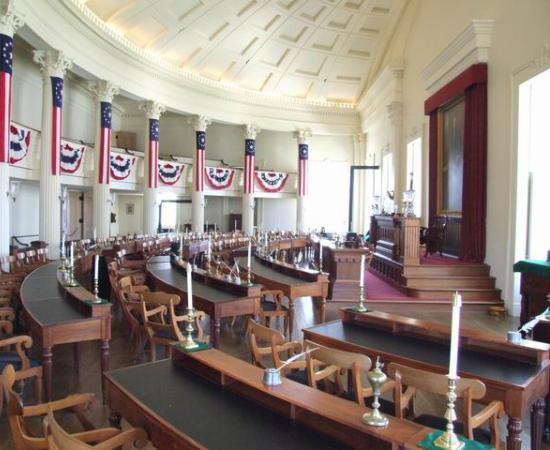 Springfield, Illinois
The fifth building used as a statehouse in Illinois, the Old State Capitol was the seat of state government from 1839–1876. Prior to the building's construction, state government had been centered in Vandalia, with Lincoln himself serving as one of the driving forces behind the relocation to Springfield. The future president served out his fourth and final term in the state legislature in the building, but after leaving office he continued to frequent the building with his legal practice, as the building also housed the state's supreme court.
In 1858, speaking from the Representatives Hall, Lincoln delivered his famous "House Divided" speech, accepting the Republican Party's nomination for a seat in the U.S. Senate. Two years later, Lincoln based portions of his presidential campaign out of the building. And following his assassination, he lay in state in the Representatives Hall from May 3–4, 1865, the funeral procession's final stop.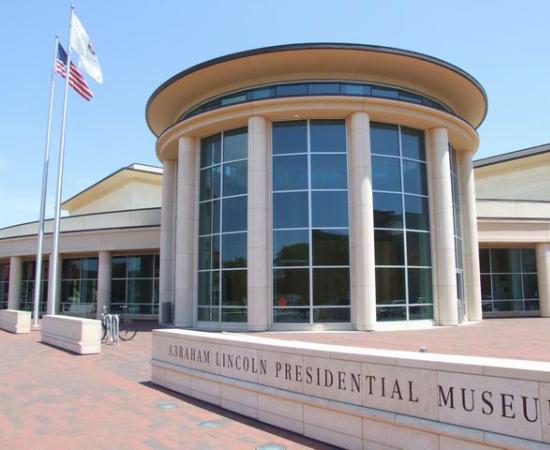 Springfield, Illinois
Opened in 2005, the Abraham Lincoln Presidential Library and Museum houses both an outstanding research library and a museum that combines life-size dioramas of key events and locations in Lincoln's life with pictures, artifacts and other memorabilia. By combining technology and new techniques in exhibit design with a vast collection of Lincoln-related and other period items, the museum has quickly become a top destination for scholars and tourists alike.
Oak Ridge Cemetery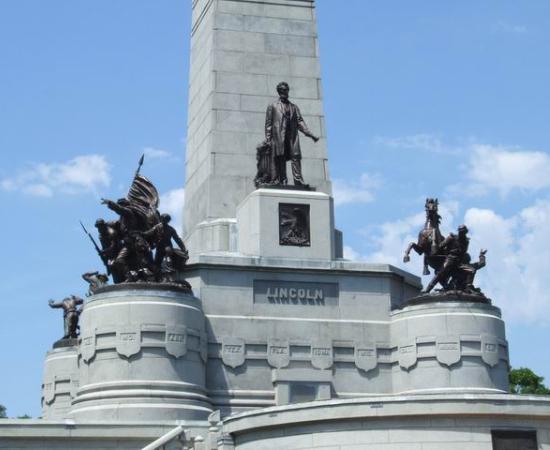 Springfield, Illinois
Hailed across the country as a martyr, assassinated president Abraham Lincoln was laid to rest in the Springfield cemetery selected by his wife, who was too distraught to make the journey and stayed in Washington, on May 4, 1865. Initially, Lincoln's remains were held in a public receiving vault.
Construction of the elaborate tomb and memorial visible today began in 1868. By 1871, although construction was not yet complete, crypts had been built and Lincoln's remains, along with those of his three deceased sons, were moved into the unfinished tomb. In 1874, the project was complete and Lincoln was transferred into a white marble sarcophagus. Upon her death in 1882, Mary Todd Lincoln was also interred in the tomb, which is crowned by a 117-foot-tall granite obelisk