Take a Field Trip!
New and updated programs from the American Battlefield Trust allow students enjoy real and virtual battlefield visits.

Thanks to new and updated programs from the American Battlefield Trust, 21st-century classrooms have more choices than ever when they weigh field trip options. Lack of resources — whether temporal or financial — might have once kept teachers from bringing their students to historical sites, but now they can share these iconic places with their students.
Travel from the Comfort of Home 
The Trust's new virtual field trips are the next-best thing to an overnight journey to a great historical city, conducted for free and in a fraction of the time! These accessible and engaging videos showcase "greatest hits" sites, as well as offer behind-the-scenes access for teachers, students and anyone with a deep interest in history. The Trust has already produced virtual field trips of both Baltimore and Boston, providing rich models for other cities featured in upcoming videos.
What goes into making an informative and entertaining virtual field trip? In partnership with the award-winning film company acowsay, Trust experts and collaborators are driven to create content that tells a rich narrative about these distinctive destinations and their roles in the conflicts that define the country. Through crisp camera work and experienced and charismatic hosts and guests, the Trust blends learning and fun into these pieces of content, accessible and available to all.
As both preservationists and educators, Trust staff are eager to provide resources on our nation's formative conflicts and beyond. Knowing that students and teachers appreciate visual resources, content like virtual field trips is vital in keeping students engaged with our country's history. Furthermore, it inspires American students to view the events and people they learn about through a more personal lens. Kanisorn "Kid" Wongsrichanalai, director of research at the Massachusetts Historical Society and collaborator in the Boston virtual field trip, describes how "the written record of what people did in the past can humanize these people that we look up to," and that their stories can "[give] us some inspiration that you too can do something great." 
In the Boston virtual field trip, Trust Copie Hill Fellow Chris Mackowski takes viewers on a 70-minute journey to meet historians, reenactors and other experts in the so-called cradle of liberty, but also ventures 14 miles beyond Beantown to Minute Man National Historical Park. He throws tea into Boston Harbor, listens to fife playing on the Lexington Green, enjoys lunch at the Union Oyster House and even fires a shot aboard the USS Constitution. His conversations along the way illuminate the importance of the city — and nearby battlegrounds — to the Revolution, and his interactions with costumed interpreters humanize the Revolutionary generation. 
Over the next two years, the Trust will produce more virtual field trips in the style of the ones set in Boston and Baltimore with help from acowsay, targeting cities across the country that are popular with educators and student, including New Orleans, La., Vicksburg, Miss., and Charleston, S.C. Through such virtual excursions, students will learn about locations relevant to the Revolutionary War, War of 1812 and Civil War, as each city is vital to the stories of these American conflicts.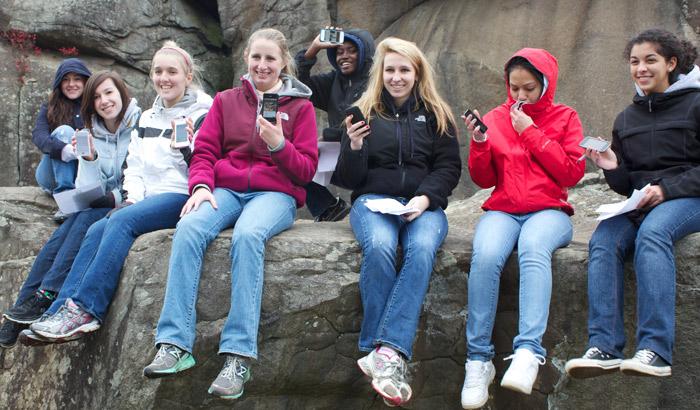 40,000 Students on Battlefields — and Counting! 
There are few schoolhouse traditions as beloved as the field trip — a chance to go out into the world and experience some aspect of what is being studied in a new and tangible way. But with tight budgets and jam-packed curricula, it can be hard for even the most passionate educators to secure these coveted adventures. The squeeze can be particularly tough on social studies and humanities teachers, whose subjects are often not as valued when it comes to standardized test scores. 
"At the American Battlefield Trust, we believe in the power of place above all," said organization President David Duncan. "As the son of a social studies teacher, I give tremendous credit to our educators. But not even the finest lecture from the finest teacher can ever replace the magic of standing in a spot where you know important things happened. And so, we want to provide this resource to help educators take their instruction to the next level by sending them out into the field." 
Nine years ago, the Trust launched a program to help finance classroom trips to battlefields and other historic sites relevant to our mission. These grants were immediately popular, and demand has always outstripped the available funding, making competition fierce. Among other criteria, educators must submit applications and pledge to meet certain requirements, like the integration of preservation messaging, into their itinerary.
All told, the Trust's History Field Trip Grant Program has now sent 40,000 students to battlefields and other historic sites associated with the Revolutionary War, War of 1812, and Civil War. 
Among the most recent recipients of a grant is teacher Timothy Zgliczynski of Lancaster, Pa., who took his elementary students to visit Hull House, home of local Revolutionary War hero Warren Hull. "We had an amazing trip that was a capstone to a year of learning where we studied both the Revolutionary War and the Hull House in great detail," he wrote in thanks. "Our classes collected donations for the Hull House and actually were able to raise $1,100 to help in its preservation. Because of that, we were thanked by the Hull House foundation and also featured in the local newspaper! Again, this is all due to your generosity." 
Support our History Field Trip Grant Fund and send more classrooms on field trips to historic sites next school year here.