Hal Jespersen
Interviewing a Color Bearer and a Driving Force Behind Wikipedia's Civil War Content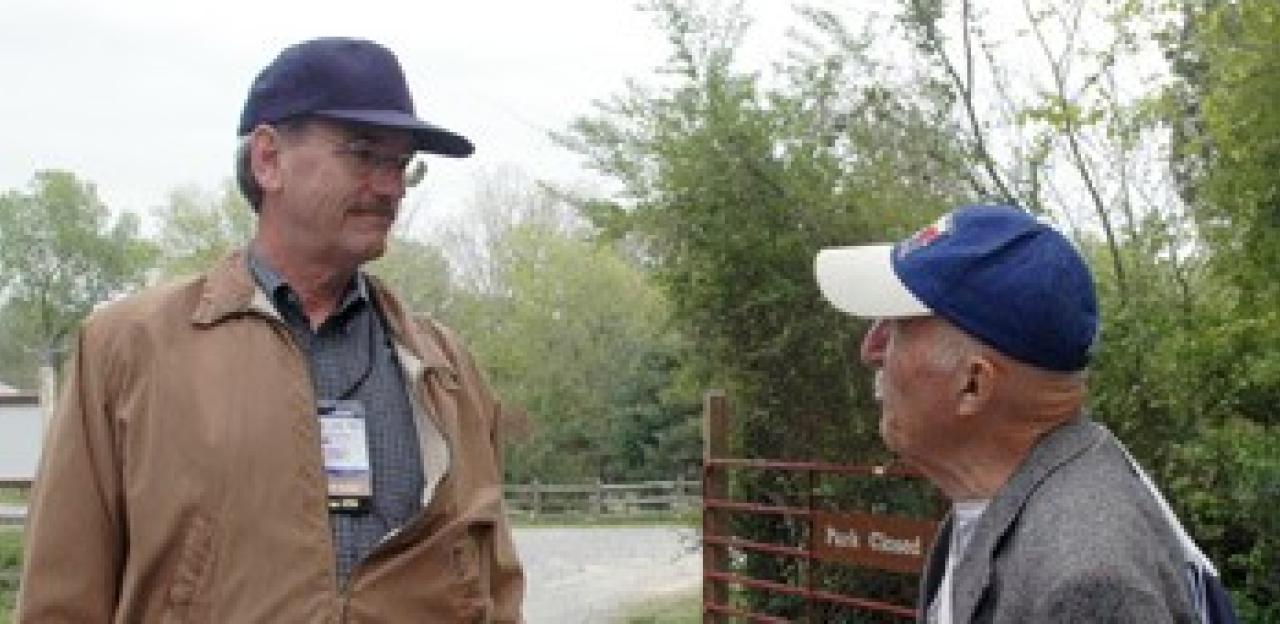 In 2010, the Civil War Trust had a chance to sit down with Hal Jespersen, a Color Bearer and a driving force behind the development of American Civil War content on Wikipedia. Over the past decade Hal has authored more than 130 Civil War battle summaries and has contributed more than 160 Civil War maps to the Wikipedia collection.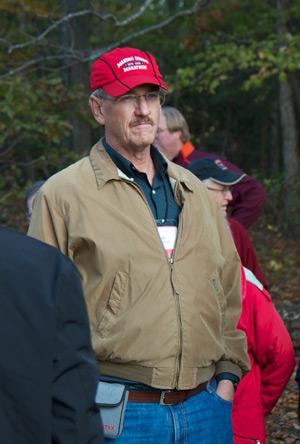 Civil War Trust: As someone who has worked for many years in Silicon Valley and lives in California how did you become so interested in the American Civil War?
Hal Jespersen: I took a rudimentary military history course and visited some battlefields in ROTC, but service in Vietnam and Europe and then the computer business took my focus away from the Civil War. In 2003 I happened to read Michael Shaara's The Killer Angels and became fascinated by Gettysburg. I followed up with real history books, visited Gettysburg with a licensed guide, and then started to branch out to most of the other battles and battlefields: visiting, reading, and writing Wikipedia articles about them.
Since its creation you have been one of the driving forces behind the development of the American Civil War content on Wikipedia.  How did you get involved in Wikipedia?
HJ: I'm a computer guy who saw the immense collaborative potential of Wikipedia in its infancy and was not intimidated by the modest computer skills necessary then to contribute. My first article was in January of 2004 and by that time I had been using the Internet for over twenty years. I knew that I could improve my comprehension of the war by not simply reading about it, but writing about it. When I started, the battle articles were exceptionally short—little more than copies of the public domain CWSAC summaries—so it was simple to pick a battle and start fleshing it out.
Many of us hear about the challenges Wikipedia faces in terms of protecting its content from mischievous or fringe elements.  Is that a problem that affects the Civil War section on Wikipedia?
HJ: Yes, but it's more of a random vandalism problem than orchestrated controversy, as would plague the biographies of current politicians or, say, the Iraq War or Global Warming. The Wikipedia policy is that anyone can edit an article, even anonymously, so the equivalent of graffiti shows up all the time. It is usually represented by the random deletion of text or insertion of nonsense or cursing, but it sometimes is more insidious, such as slight changes to dates or casualty figures. Fortunately, there are hundreds of people actively monitoring the articles, so corrections are sometimes made within seconds or minutes of an occurrence. The Wikipedia administrators have been working on procedures that would make malicious (or accidental) changes more difficult, such as requiring approval of interim changes on some of the more popular articles, but for the time being, there is a small chance that the current version of the article being displayed has been temporarily spoiled. A reader who is concerned about this possibility can examine the editing history for an article to see what edits have recently been made and fall back to a more reliable version.
How do you see the Civil War sections of Wikipedia evolving or developing over time?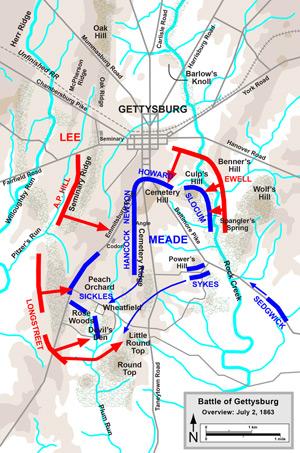 HJ: I think that most of the articles about the war have already been started, so it will be a matter of improving the existing articles rather than creating new ones. Many of the articles are still too rudimentary and deserve expansion. Given that, however, the most pressing requirement is to improve conformance to Wikipedia requirements for verifiability. Unlike a printed encyclopedia, our articles cannot have noted historians listed as authors to verify the contents, so we must rely on many footnotes to verify both the facts and judgments contained in the articles. Wikipedia is based on secondary sources (books, journals, magazines, etc.), not primary sources (the Official Records, correspondence, diaries, veterans' memoirs, etc.), and these must meet stated requirements for reliability, such as publication by reputable academic and commercial publishing enterprises, not self-published fringe works or random Internet websites.
One of the most interesting observations I have made in writing battle articles is how many secondary sources differ in reporting the basic details, particularly casualty figures, but also such things as the specific dates of battles and their results. Some of the articles have to resort to lengthy footnotes or tabular listings to deal with all of the variations. I have over 500 books in my personal Civil War library, so for a particular battle I am often able to consult a dozen or more prominent authors to provide citations.
Any advice to potential Civil War Wikipedia authors on how to best add content to Wikipedia?
HJ: First of all, we need a lot of help as the Sesquicentennial starts up, so I encourage all interested parties to jump in and start making improvements. It is not technically difficult to edit basic changes into an article. So I am happy to have personal communications with new editors to guide them toward appropriate articles or help them with some of the more arcane aspects of collaborative editing. See my user page to leave a message or to send me an e-mail. Each article also has a discussion page in which editing issues are discussed. I encourage prospective editors to read comparable articles and understand the scope and style of what is expected in a fully developed, encyclopedic article. I also have a "style guide" on my user page to help with a number of the mechanical aspects of referring to individuals and battles, linking to other articles, and providing the required citations. Then, pick a battle or an individual—perhaps something relating to your ancestor or your home town—read a few secondary sources, and start summarizing. An additional way to add content is to upload photographs you have taken of relevance to battlefield or biography articles.
From reading your extensive online travelogues you've had a chance to visit many Civil War battlefields and sites.  What are some of your favorites?
HJ: My all-time favorite is Gettysburg, which, although I live in California, I have managed to visit eleven times in six years. There is a good deal of commercialism intruding around the edges, but this large and complex battle is relatively easy to interpret because of the distinctive terrain. And there is just so much history there, as Lincoln recognized. I also love Antietam, Vicksburg, Perryville, Manassas, and Chickamauga. Probably the most pristine major battlefield is Shiloh, and I regret that I have not spent as much time there as I should.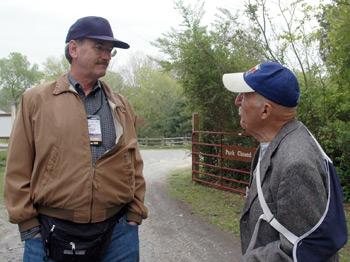 As someone who has developed a lot of digital content over the years, how important are the actual battlefields to understanding the American Civil War?
HJ: My digital content is primarily focused at the brigade level and above, so some of the intricacies of the terrain that would affect an individual soldier are not visible at my level. Some battlefields are essentially flat and others now have extensive forests that make visualization rather difficult. But battles such as those I listed in the previous answer, as well as Chattanooga, Harpers Ferry, Kennesaw Mountain, Port Republic, and many others, are impossible to understand fully by simply reading books and maps.
As a Civil War Trust Color Bearer you've played a big role in helping to preserve Civil War battlefields.  Are there any preservation efforts that you are most proud of?
HJ: I have contributed modestly to both of the campaigns to prevent a Gettysburg casino and the campaign to stop the Wilderness Walmart, and I hope that all of these will end up being considered successful. I have admired the gutsy decision to acquire the Slaughter Pen Farm at Fredericksburg, despite its daunting costs. And I think it is significant that CWT invests in interpreting battlefields in addition to simply "buying the dirt." Other than that, it is difficult for me to highlight specific preservation efforts in my five years as a CWPT member because I think they are all pretty important.
I understand that you just ran the 2010 Marine Corps Marathon in Washington DC.  How did you do?
HJ: As with my previous six marathons, I accomplished my goal: I finished!
Learn More: How to Become a Civil War Historian
Hal Jespersen is a retired computer industry executive who has a strong interest in studying the Civil War. Hal was a U.S. Army Signal Corps officer in the 1970s and then held a variety of computer software jobs in Silicon Valley until his retirement in 2010. In 2004, Hal began to make significant contributions to the Civil War articles on Wikipedia, and is the principal author of about 130 battle and campaign articles as well as an equal number of biographical articles about Civil War generals. In addition to the text of the articles, Hal has published over 160 Civil War battle maps, which are starting to appear in a number of online sites and some recently published books. Hal focuses his interests primarily east of the Mississippi, and although he loves the Army of the Potomac, feels that the war was substantially won in the Western Theater.

Hal's website, http://www.posix.com/CW/ contains links to his maps, his important Wikipedia articles, and a large number of travelogue articles, recording his visits to Civil War battlefields and seminars over the years. Hal is the webmaster for three Civil War Round Tables: (San Francisco) Peninsula, South Bay (San Jose), and Old Baldy (Philadelphia).