Build Your Own Traveling Trunk
Helpful tips and resources for building a Traveling Trunk of your own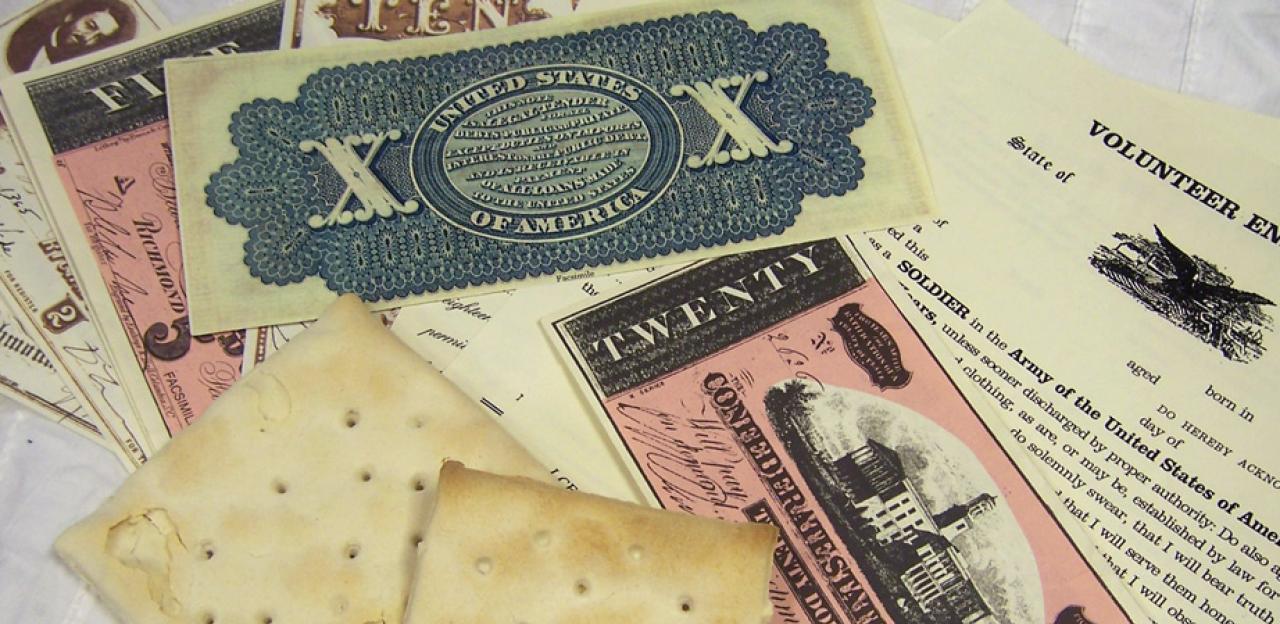 Help students in their studies of the Civil War by creating your own Traveling Trunk, filled with Civil War replica items and educational materials that can help provide a hands-on learning expereince. Here are some tips and ideas for building your own Traveling Trunk. 
Things to consider while planning your trunk
Will your trunk travel between classrooms?
What kinds of items should it include? 
Are there any lesson plans or specific Civil War curriculum that should accompany the trunk?
What kind of audience will you be trying to reach with the trunk?
How to begin
Purchase your trunk. We recommend a sturdy, hardshell case to help protect your replica items.
Check out a Traveling Trunk Inventory Sheet to explore the kinds of items that travel with a trunk.
Make a list of the items you plan to obtain, and then make your own Inventory once you have them.
What to include
Here are a few ideas for items that might be helpful for your trunk:
Replica Civil War clothing and accessories

Dresses, bonnets, fans
Union and Confederate Coats
Union and Confederate forage caps, or kepis
Shoes
Canteens

Other war-related or Nineteenth Century items

Reproduction bullets and cannister shot
Cotton boll
Fife
Union and Confederate flag sets
Playing cards and Civil War era games like Jacob's Ladder or the cup and ball game

Haversack

Toothbrush and comb
Silverware set and tin cup
"Housewife" with cloth, buttons, and thread
Coffee ration and hard tack
Prayer book or picture

Reproduction documents 

Replica Civil War letters
Civil War speeches, like the Gettysburg Address
Newspapers and broadsides from the Civil War era
Union and Confederate paper money
Cartes de Visite
Civil War era photographs
Appomattox Parole slips

Informational books and guides

The American Spelling Book
Baxter's Volunteer Manual
Beadle's Dime Book of Practical Etiquette
American Children's Games through the Civil War Period
Cooking for the Cause
An Introduction to Small Arms of the Civil War
Civil War Weapons and Equipment

Posters and maps

The Cartoon History of the Civil War (for various battles)
Young Soldiers

CDs and DVDs

Glory
Civil War era music
Where to purchase Civil War Replica Items
Here are a few websites that supply Civil War era replica items and educational materials:
Be sure to check out the gift shops at any battlefields or other historic sites you might visit as well! Here are the links to a few if you can't make it in person:
If you have specific items, books, or other materials in mind, be sure to explore amazon and ebay, too!
Useful documents
Lesson plans, guides, charts, and other documents