Noel Kline
Preserve 95 Acres at Three 1864 Civil War Battlefields
Today, we have the opportunity to save 95 acres of hallowed ground at three 1864 battlefields in Mansfield, Louisiana, and at the Wilderness and First Deep Bottom in Virginia.
To preserve the stories these battlefields tell for all time and create a legacy that will last for generations, we need your help in raising the final $144,671.
The Opportunity
Note: You may have seen The Wilderness tract in another campaign. This one has been a serious fundraising challenge, but preservation of this tract finally within reach. Please help us reach our goal today.
Thanks to a combination of anticipated federal grants and gifts from our great local partners at the Central Virginia Battlefields Trust and the Virginia Land Conservation Foundation, we have already secured more than 88% of the funds needed to pay for these land transactions totaling $1.2 million.
This means that any gift that you give today will be multiplied by an $8.90-to-$1 match! We just need to raise $144,671 to complete these transactions.
The Background
Each of these three battlefields witnessed a consequential 1864 battle and played a role in General U.S. Grant's grand strategy for the final, full year of the war.
In addition, 39 of these irreplaceable 95 acres are twice-hallowed ground. The land you can save today at First Deep Bottom also saw action in the 1862 Battle of Glendale, doubling the importance of saving this hallowed ground.
Let's take each of the battles in turn, beginning with the Battle of Mansfield, Louisiana...
Mansfield Battlefield
In the spring of 1864, Union forces launched an offensive known as the Red River Campaign. Its objective was to capture Louisiana's Confederate capital at Shreveport and then open the gateway for Federal troops to enter Texas.
Union forces under General Nathaniel P. Banks made their way north from New Orleans, arriving at Mansfield, also called Sabine's Crossroads. However, between Banks' army and the Union target was a Confederate force of about half the size, led by General Richard Taylor.
Banks's men made their way to the top of a slope called Honeycutt Hill only to discover the entirety of Taylor's force arrayed in a line of battle in front of them. Knowing they would need reinforcements to advance, Banks sent back for more troops. Several hours of heavy skirmishing followed until late in the afternoon and impatient to go on the offensive, Taylor attacked.
The Federals sent volley after volley into the advancing Confederates, but the wave of Southerners continued to rush Honeycutt Hill. The Federal soldiers desperately awaited reinforcements, but a disorganized tangle of troops and wagons from their own 20-mile-long supply lines delayed the arrival of any relief.
The Union troops atop Honeycutt Hill found themselves outflanked and nearly surrounded by Taylor's troops. The Union line crumbled, opening the way for Taylor to push the Federals off the hill, the battlefield, ultimately reversing the course of the entire campaign.
For those most heavily engaged on both sides of the Battle of Mansfield, the casualties were staggering — in General Alfred Mouton's Confederate brigade, nearly every regimental commander was killed. One Union Thirteenth Corps division lost 43 percent of its men, killed, wounded and captured.
The Wilderness Battlefield
Just a few weeks after the Battle of Mansfield, General Ulysses Grant launched the Overland Campaign in Virginia. In the first battle between the newly appointed Union commander and his Confederate counterpart, General Robert E. Lee, the Wilderness was among the bloodiest and most terrible of the entire war.
The 36 acres of core battlefield we are hoping to preserve at the Wilderness helps to tell another piece of that story, one that unfolded on the first day's battle on May 5, 1864. From this parcel, the Confederates launched part of the counterattack that stymied the Union advance along the Orange Turnpike. Looking to the battle map, you can see how each line formed perpendicular to the thoroughfare.
The men on both sides moved through the dense second-growth forest for which this part of Virginia is named. One soldier from the 3rd Alabama Regiment later recalled that "The woods in front were so thick that it was impossible to see more than 20 steps from our line."
You may recall seeing this tract in a previous campaign. This one has been a serious fundraising challenge, but timely financial assistance from our great friends at the Central Virginia Battlefield Trust, and a generous grant from the Virginia Land Conservation Foundation make preservation of this tract finally within reach.
First Deep Bottom Battlefield
This twice-hallowed 39-acre parcel outside of Richmond, Virginia, saw action in both the First Battle of Deep Bottom in July of 1864 and in the Battle of Glendale two years before.
During the 1862 Battle of Glendale, units led by James Longstreet and A.P. Hill passed over this land as Confederate forces attacked the Union army in motion during the Seven Days Battles. It also marks the vicinity, where Robert E. Lee and Jefferson Davis came within range of Union artillery, forcing them to relocate for safety!
This land also played a role in the Petersburg Campaign in the summer of 1864. Each of Grant's westward advances near Petersburg (designed to cut railroad lines and stretch Lee's forces) was accompanied by a movement north of the James River closer to Richmond. Lee's attenuated forces would have trouble parrying two thrusts at once.
In late July, General Winfield Scott Hancock's Second Corps, along with two divisions of General Philip Sheridan's cavalry, crossed the James River at a bend known to locals as Deep Bottom. Their aim was to threaten Richmond and pressure Lee to dispatch a sizeable number of his Petersburg defenders to stop this advance.
Hancock met with initial success in his expedition and then pushed his advantage — he positioned the cavalry near Gravel Hill, where a sharp firefight with the 10th and 50th Georgia Regiments ensued.
Reinforcements from the Petersburg sector came to the aid of both sides on the following day, July 28, 1864, playing into Grant's objectives to draw forces from other parts of the Confederate defenses. Sheridan ordered his cavalry forward toward Gravel Hill, where it ran headlong into three Confederate brigades. Desperate fighting at close quarters ensued until the Federal cavalry eventually pushed the Confederates back.
The tract we're working to save, located alongside the Gravel Hill Church, includes at large portion of the actions from July 28 and helped set the stage for the Battle of the Crater on July 30. Preserving this land will also simultaneously protect the history of Gravel Hill, a unique and historically significant community in its own right.
In 1777, a Quaker named John Pleasants freed his slaves in his will. His son, with the assistance of none other than John Marshall (yes, the same John Marshall who went on to become chief justice of the United States Supreme Court!) secured freedom for 78 individuals, along with 350 acres of land on which they could settle. They called this land "Gravel Hill."
By saving these acres today, you and I can protect two battlefields, and also the stories of the formerly enslaved people who settled Gravel Hill and their descendants, many of whom still live in the area!
Save These Three 1864 Battlefields
Each of these battles is a piece in the puzzle of the larger strategies that characterized the final year of the war. But if we don't act swiftly, these 95 acres of hallowed ground could be lost forever!
We expect that if we are unable to save this land, it would be sold for residential development, which still poses a constant threat to far too many battlefields across our country.
Please make your most generous gift today to help raise the $144,671 we need to save these 95 vital acres at Mansfield, Louisianna, the Wilderness, and First Deep Bottom, Virginia.  
And as there is simply no substitute for walking on the very ground where important history happened, I ask you to make your most generous gift today to ensure that future generations will always be able to explore and learn from our unique American battlefields.
David N. Duncan, President
Save Three 1864 Civil War Battlefields
95
ACRES TARGETED
Donation Match
$8.90-to-$1
BATTLE MAP | American Battlefield Trust's map of the First and Second Phase of the Battle of Mansfield, Louisiana on April 8, 1864
BATTLE MAP | The American Battlefield Trust's map of the battle of First Deep Bottom, Virginia on July 28, 1864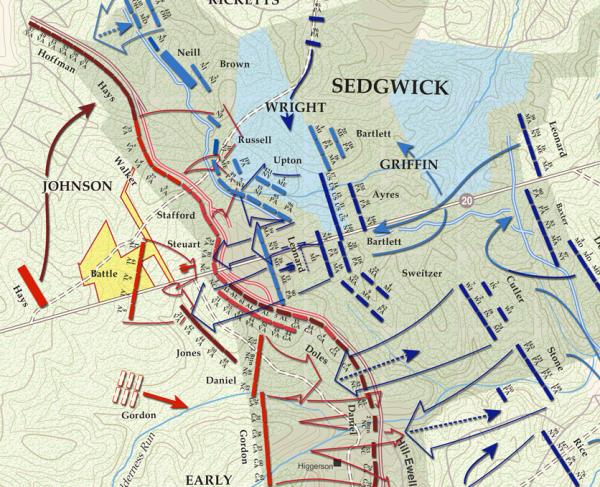 BATTLE MAP | American Battlefield Trust's map of the Battle of the Wilderness - Orange Turnpike Fight on May 5, 1864.