Meet Mark Block of Manassas, Virginia
An interview with a Color Bearer member
We as Americans needs to preserve, respect, and teach our history... I hope by saving battlefields and giving to the Trust we can teach our country more history.
Mark Block, Color Bearer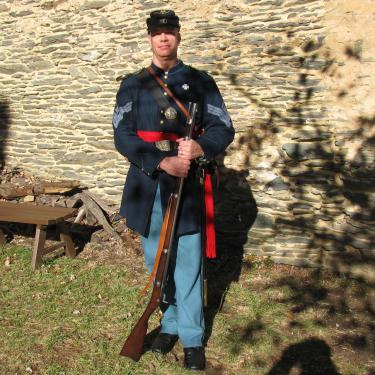 American Battlefield Trust: What moved you to first give to our organization?
Mark: I have always loved, and was very interested in learning more about, the Civil War era.  I went to my first reenactment at the Battle of Bentonville back in the late 1990s and had a great time.  I found out about the Trust from that reenactment and really wanted to give back to the cause, save our history and honor the soldiers.  It's so rewarding to save battlefield land — the cemeteries for many of the solders.  Every time you walk on the battlefields you are walking amongst the graves of the fallen.
What do you enjoy most about being a Color Bearer?
It's the sense that you are able to give back more to our American history, preserve the battlefields and educate the public.  I was happy at any level of membership but felt that my wife and I could give more and make more of an impact.
What is your favorite battlefield you've visited?
My favorite battlefield is Franklin.  My wife and I took a vacation to Tennessee back a few years ago and visited Franklin, Nashville, Stones River, Chattanooga, and Chickamauga.  The cemetery at Stones River is beautiful, but Franklin in the West was as bad as Gettysburg in the East.  The open field march of the Confederates to the Union trenches and 3 of 4 hours of battle are in the dark.  I got to see some of the work done by the Trust at Franklin but more has been done since we left, like the strip mall with the Domino's Pizza that has been torn down.
If you could travel anywhere in the world, where would you go?
Normandy in France.  Julie and I had a tour booked in August of 2020 to see many of the WWII battlefields in Europe.  To see the American-run cemeteries over in France and Belgium is humbling.  It's more convenient for us in the U.S. to travel to Revolutionary War or Civil War battlefields, but to see where our soldiers fought and died is humbling.  I was a U.S. Army soldier stationed in Germany but never made it up to Normandy at the time.  Many others who have been to Normandy say you get a sense of pride to see the American flag flying in the cemetery and how beautiful it is.  By the time you leave, you're in tears.  To see this hits home for me because some of the battlefields we will visit are where my fellow paratroopers from the 82nd Division jumped during D-Day.
If you could meet any historical figure, who would you choose and why?
William T. Sherman. His style of warfare was unique for his time. A deep thrust into enemy territory with a large army was different. He studied the census, areas of maneuver and found out where the farms were to feed his army.  He also cared for the everyday soldier.  He would walk in the camps at night and sit down with the privates and sergeants at the campfires and talk with them.  That is why the soldiers would call him Uncle Billy.
Anything else you want to share?
I belonged to the 3rd U.S. Regular Infantry reenacting group for several years.  We have done living history on the Gettysburg, Appomattox, Fredericksburg, Wilderness and Antietam battlefields.  The most humbling feeling is after dark when the public goes away and no one is there except for our unit.  To walk Gettysburg or Antietam by yourself, on that ground, in a Civil War uniform, when it's quiet and peaceful — sit down and reflect where you are, on that ground... that's a feeling that brings everything we do into perspective.
We as Americans need to preserve, respect, and teach our history.  A country with no history ceases to exist.  More of our American history needs to be taught in our schools.  I hope by saving more of our battlefields and giving to the Trust we can teach our country more history.  It's a sense of pride to see what our past soldiers did to protect and preserve our country.  A lot of the soldiers died so that we can live in peace today.