TRIPLE your impact to ensure that America's history and heroism are never forgotten!
It is vital that young people experience our nation's history. Each dollar we can raise toward our History Field Trip Grant Program goal will be tripled to provide 3X the good work we can do together to help bring America's first century of history alive for students across our great nation. 
By helping the American Battlefield Trust raise the funds needed in the next 30 days to unlock the matching gift fund, you can help send as many as 2,500 American students on school field trips to experience history for themselves where it happened.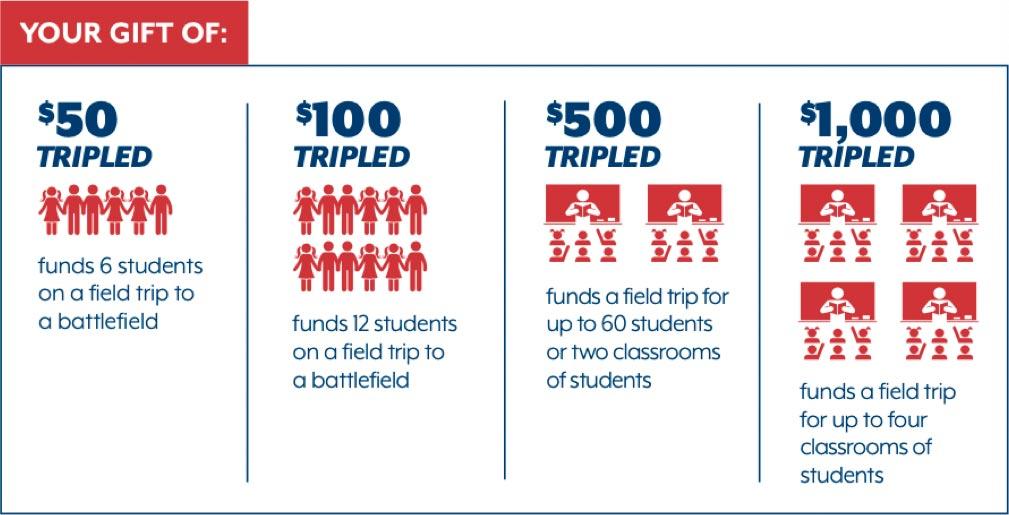 Be recognized for your support of field trips on battlefields! 
As a special recognition for helping make in-person field trips a reality this year, we will print a "Proud Supporter of Field Trips to American Battlefields" card on your behalf. The card will be hung on our walls to display the names of all of our dedicated members who have so generously helped send students on battlefield field trips. We'll also send signed cards to the schools we help fund field trips, and we'll publish the photos on our website to celebrate your generosity in igniting a much-needed appreciation of American history in young students.