Virginia
12018 Lee Hwy
Sperryville, VA 22740
United States
This heritage site is a part of the American Battlefield Trust's Road to Freedom Tour Guide app, which showcases sites integral to the Black experience during the Civil War era. Download the FREE app now.
Caroline Terry, known locally as "Sis-tah Cahline" (1833-1941) was born a slave, perhaps in Southampton County, but spent most of her life in Rappahannock County. She later took the surname Terry. By 1846, Francis Millan of Culpeper had purchased Caroline, her mother, Alcey, and her brother, Billy. Millan constructed the Virginia Hotel on Main Street there, then sold it in 1856 and moved to Woodville, about 5 miles south of here. In 1861, he bought the Sperryville Hotel (now Hopkins Ordinary), which still stands nearby on Main Street, and Terry likely worked there as a cook. Several Confederate officers, including Jedediah Hotchkiss, Gen. Thomas J. "Stonewall" Jackson's cartographer, stayed there. Millan's sons John and Henry Millan served in Co. B, 6th Virginia Cavalry, a local regiment.
During the war, Terry acquired several military relics, including an 1851 Navy Colt revolver and binoculars she took from the body of a soldier while she assisted with a burial. The Union Army of Virginia occupied Rappahannock County in the summer of 1862, including Sperryville and Woodville, and camped in the fields just behind you while Federal officers occupied the buildings in town. In June and July 1863, about half of Confederate Gen. Robert E. Lee's Army of Northern Virginia camped here before and after the Gettysburg campaign. These occupations gave Terry several opportunities to acquire relics.
After the war, she bought a small house near the first Hopewell Baptist Church, which she helped found. Many visitors sat on her porch to listen to her stories. She is buried in the "black cemetery" on Oven Top Road a mile west of here.
The stories that Caroline Terry told on her porch included her sale to Francis Millan, her reputation as a good cook, and a visit of Union soldiers to her "plantation" home during the war. She also revealed one of the bleak realities of slavery: that her unusually comfortable cabin was called the "honeymoon house" for a reason. Three of her six children were what the slaves termed "gifts of the big house," probably fathered by Millan and one of his sons. One pregnancy occurred in 1863, when she said she took a revolver and binoculars from a dead soldier's body and hid them under her maternity dress. Her descendants still own the relics.
Explore the Road to Freedom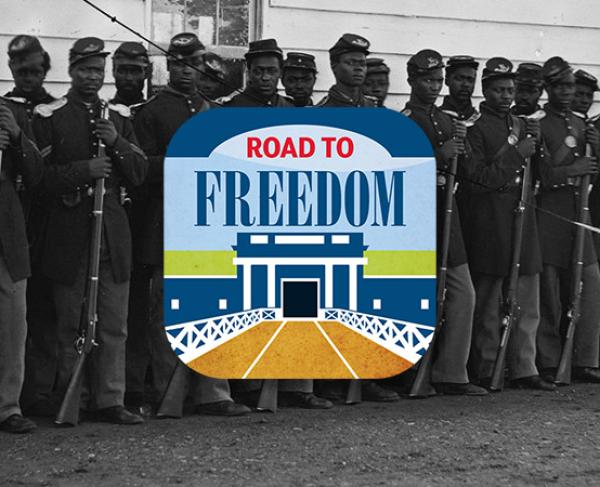 The Road to Freedom Tour Guide highlights Virginia's Civil War-era African American experience, encouraging visitors to uncover these little-known...