News
Venerate Our Veterans at These Ten Commemorative Events and Historic Sites
This Veterans Day, reflect on the country's history of military service by visiting or partaking in the following Trust-recommended sites and events
Colleen Cheslak, (202) 367-1861 x7234
(Washington, D.C.) — As the nation gears up to celebrate Veterans Day, the American Battlefield Trust is continuously reminded of those who fought, struggled and sacrificed their lives in battle, as the organization persists in its mission to save hallowed ground at Revolutionary War, War of 1812 and Civil War battlefields across the country. The national holiday's roots were planted in the aftermath of World War I, when Armistice Day was widely adopted as a day of remembrance for the tragic global conflict; it took until 1938 for the U.S. Congress to officially designate it a legal holiday "dedicated to the cause of world peace." By 1954, Congress passed legislation that transformed the holiday into Veterans Day, recognizing all American veterans.   
On the 68th anniversary of Veterans Day, the Trust pauses to recognize the valor and perseverance of our nation's veterans and recommends the following activities and destinations to connect audiences to their stories of service and sacrifice:  
November 5: Salute to Veterans at Luther Ely Smith Square, St. Louis, Mo.  
The Gateway Arch Park Foundation will join forces with the National Park Service to present a Veterans Day concert at the Luther Ely Smith Square on the Gateway Arch National Park grounds. This hour-long program will feature a traditional and patriotic performance by the 399th Army Band Missouri Brass Quintet. Admission is free and open to the public. Learn more.  
November 5: The Overmountain Victory Trail at the Wilkes Heritage Museum, Wilkesboro, N.C. 
Explore part of the Overmountain Victory National Historic Trail with Ranger William at Wilkes Heritage Museum. He'll not only be on site with a mobile visitor center and hands-on activities, but will also share stories during two Revolutionary War programs. Learn about key Patriot officers during the Kings Mountain Campaign or 18th-century backcountry culture's impact on backwoods fighters. Learn more. 
November 11: Veterans Day Holiday Concert at the National Museum of the U.S. Navy, Washington, D.C. 
In collaboration with D.C. Public Library, the DC Mayor's Office and the United States Navy Band, the National Museum of the U.S. Navy will present an hour-long musical program to honor all veterans. The program will feature the United States Navy Band's premier country-bluegrass ensemble, Country Current. This event is family-friendly, free and open to the public. Learn more. 
November 11: Veterans Day Ceremony at the Atlanta History Center, Atlanta, Ga. 
Join the Atlanta History Center for their annual Veterans Day Ceremony, as they seek to celebrate and thank service members, both past and present, for their invaluable service to the nation. This year's ceremony will feature keynote speaker Maj. Gen. Bret C. Larson, Commander of the 22nd Air Force, as well as musical performances by the 116th Army Band, tenor soloist Timothy Miller, and bagpiper Wayne Coleman. Learn more.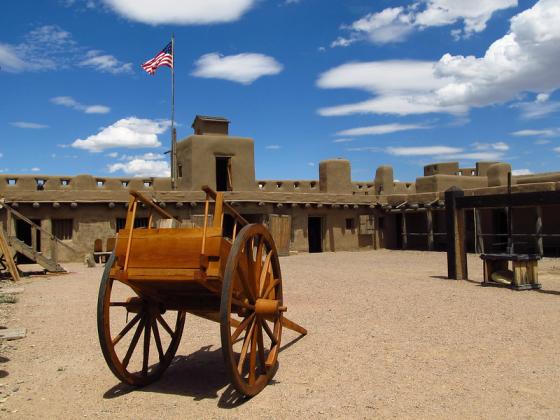 November 11-12: Veterans Day at Bent's Old Fort National Historic Site, La Junta, Colo. 
Come out to Bent's Old Fort and learn about a few of the military units that operated in the area during its years as a fur trading post and, later, as a stagecoach station. Volunteers and staff will showcase the changing of times by presenting an evolution of uniforms and equipment from 1833-1875. No entrance fees will be charged on November 11. Learn more.  
November 11-13: Veterans Day Celebration at the National Museum of the U.S. Army, Fort Belvoir, Va. 
Join the National Museum of the United States Army as they honor the brave men and women who have fought for and defended our nation. The eventful weekend celebration will have hands-on history, activities, tributes, a resource fair, and volunteer showcases where personal stories and artifacts will be shared. Learn more.
November 12: Veterans Day Cruise at Boston Harbor Islands, Boston, Mass. 
The Boston Harbor Islands National Recreation Area is hosting a Veterans Day cruise and excursion to Georges Island. Departing from Long Wharf, the cruise will arrive at Georges Island and be followed by a guided tour of the historic Civil War-era Fort Warren. Visitors will hear reflections on military service and participate in self-guided activities. While veterans and active military can register for free, a small fee applies to friends, family and the general public. Learn more. 
November 12: Veterans Day Luminary at Sailor's Creek, Rice, Va. 
Site of the 1865 series of engagements that was proceeded by the surrender at Appomattox Courthouse, the Sailor's Creek Battlefield State Park is hosting their annual Veterans Day Luminary commemorative event. Led down an illuminated path by park rangers, visitors will experience recreated historical vignettes of the Battle of Sailor's Creek. The park will also be unveiling a brand new trail on the battlefield.  If you would like to honor a veteran by having their name, branch of service, and rank placed on a luminary, please contact sailorscreek@dcr.virginia.gov. Learn more.  
Ongoing: National Veterans Art Museum Virtual Collections and Exhibits, Online 
The National Veterans Art Museum is dedicated to presenting art that was inspired by military service and was made by our nation's veterans. The museum hosts an online collection where you can view many of the pieces displayed in their physical galleries. They also provide access to several online exhibits, including a Vietnam War veterans tribute, The Things We Carried, and another dedicated to African American veterans. Learn more.  
Ongoing: "Price of Freedom" at the National Museum of American History, Online/in-person exhibit
Hop online or head on over to the National Museum of American History to discover the Price of Freedom, an exhibit that explores how wars have shaped our nation's history and highlights the service of soldiers throughout generations. Presented with artifacts and various visual resources, the exhibit emphasizes the impact these men and women had on our wars — from the Revolutionary War to Vietnam. Learn more. 
For more activities, visit the Trust's online events page, check out the National Park Service event calendar, or seek out state parks near you. 
The American Battlefield Trust is dedicated to preserving America's hallowed battlegrounds and educating the public about what happened there and why it matters today.  The nonprofit, nonpartisan organization has protected nearly 55,000 acres associated with the Revolutionary War, War of 1812 and Civil War. Learn more at www.battlefields.org. 
###