News
Find Where to Honor Those Who Made the Ultimate Sacrifice this Memorial Day
American Battlefield Trust recommended programs, events and activities  honoring the nation's fallen soldiers and sailors
Colleen Cheslak, (202) 367-1861 x7234 
(Washington, D.C.) – With origins tracing back to the Civil War, Memorial Day carries traditions that bring Americans together each May to honor the soldiers and sailors who gave their lives to military service. To commemorate their sacrifices, the American Battlefield Trust — a national nonprofit organization that preserves battlefields of the Revolutionary War, War of 1812 and Civil War — recommends the following events, volunteer opportunities and activities your family can partake in or view this Memorial Day weekend 2021. 
May 15 – June 4: River Raisin Field of Remembrance Memorial, Monroe, Mich. 
River Raisin National Battlefield Park, the largest final resting place of United States soldiers killed in a single battle during the War of 1812,  will once again display its annual Field of Remembrance Memorial Flag. The Flag display is accessible by foot or by car. Learn more.   
May 25 – 28: Placing Flags at Camp Nelson National Cemetery, Nicholasville, Ky.  
The Central Kentucky Veterans Committee honors this former Civil War military camp and hospital site by placing flags at the over 12,000 veteran gravestones in its National Cemetery. Volunteers are welcome. Learn more.   
May 27 – 31: Memorial Day Flag Garden, Boston, Mass. 
The Massachusetts Military Heroes Fund will commemorate the soldiers who paid the ultimate sacrifice by planting flags at Boston Common's Soldiers and Sailors Monument. Each of the more than 37,000+ flags represents a Massachusetts service member who gave their life defending our country since the Revolutionary War. Learn more. 
May 27 – 31:  Memorial Day Garden of Flags and Ceremony, Baton Rouge, La.  
Blue Star Mothers of Louisiana's first chapter once again will plant 11,000 flags at the Louisiana State Capitol to honor those who gave their lives in service to our country from the American Revolutionary War to the present day. The public is invited to participate in the flag planting. Learn more.  
May 27 – 31: Flags in Arlington National Cemetery, Arlington, Va. 
The 3rd U.S. Infantry Regiment will once again honor the service members buried at Arlington National Cemetery by placing American flags at their gravesites. The flags will remain in place for the remainder of Memorial Day weekend. Learn more.  
May 29: Memorial Day Commemoration at Fort McAllister, Richmond Hill, Ga. 
Fort McAllister State Park will pay tribute to the patriots who have served our country throughout the years with cannon and musket firings and Civil War-era demonstrations. Learn more.   
May 29 – 30:  "Soldiers through the Ages" at Old Fort Niagara, Youngstown, N.Y. 
This Memorial Day weekend, Old Fort Niagara commemorates 300 years of military history, with special displays of military musical performances and period camps, weapons demonstrations, and hands-on activities for families. Learn more.  
May 29–30: Flags at Fredericksburg National Cemetery, Fredericksburg, Va. 
Unable to hold the traditional illumination of the National Cemetery, American flags will be placed at each grave site for Memorial Day weekend. The National Cemetery remains open daily, sunrise to sunset, and encourages visitors to pay their respects during the Memorial Day weekend. Learn more.  
 May 30: Memorial Day Events at Princeton Battlefield, Princeton, N.J. 
On Sunday, May 30, the Princeton Battlefield Society will host a wreath-laying ceremony, living-history demonstrations and tours of the battlefield in commemoration of the nation's fallen military service members. Learn more.  
May 30: Memorial Day Observance at Battleground National Cemetery, Washington. D.C. 
During the week of May 30, flags will be placed at graves at Battleground National Cemetery, the final resting place for 41 Union defenders of Fort Stevens. The cemetery will be open from dawn to dusk for visitors to pay their respects. Learn more. 
May 31: Memorial Day Commemoration at Shiloh National Military Park, Shiloh, Tenn. 
The annual Memorial Day commemoration at Shiloh honors fallen Civil War soldiers and beyond. This time-honored service, one of the oldest in West Tennessee, has previously featured music, reflective readings, patriotic salutes, and the laying of a wreath on the grave of an unknown soldier. Learn more. 
May 31: Mountain Rest Cemetery Memorial Day Observance, Kings Mountain, N.C. 
Veterans, families and others are invited to the observance and wreath-laying ceremony honoring those who served and gave their lives in the armed services, especially at the nearby Revolutionary War Battle of those at King's Mountain Battlefield. Learn more.   
May 31: Memorial Day Parade and Ceremonies, Gettysburg, Pa. 
The Gettysburg Joint Veterans Memorial Day Commission will host its Annual Memorial Day Parade and Ceremony — one of the oldest continuing ceremonies in the country. The program will begin at 2:00 p.m. on Lefever Street and conclude with a ceremony at the Rostrum in the Soldiers' National Cemetery at 3pm. Learn more. 
May 31: Memorial Day at Richmond National Battlefield Park, Richmond, Va. 
At dawn, Richmond Battlefield commemorates fallen soldiers with its annual public wreath-laying ceremony. Learn more.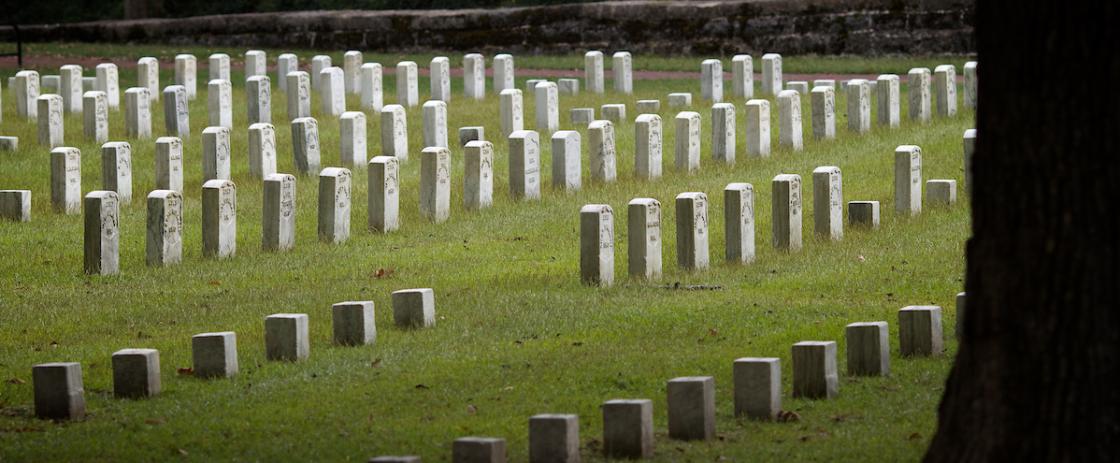 The American Battlefield Trust is dedicated to preserving America's hallowed battlegrounds and educating the public about what happened there and why it matters today.  The nonprofit, nonpartisan organization has protected more than 53,000 acres associated with the Revolutionary War, War of 1812 and Civil War. Learn more at www.battlefields.org.  
###