News
Commemorate Veterans Day at Eight Exciting Historic Sites and Tourist Destinations
The Civil War Trust recommends these events and activities at some of America's most famous battlefields and historic sites
(Washington, D.C.) – For more than two centuries, the men and women of America's armed forces have served with distinction and valor to protect the freedoms we enjoy. After World War I, Armistice Day was established to honor those who served in that global conflict. In 1954, Congress passed legislation designating Armistice Day as a day to recognize all of our veterans, and renamed it Veterans Day.
On Saturday, Nov. 11, please honor those who have worn our nation's uniform by visiting an American battlefield, historic site or national cemetery. These hallowed grounds offer a tangible link to America's past and a lasting tribute to the service of millions of men and women by providing a solemn sanctuary to reflect on their service and sacrifice. The Civil War Trust suggests the following destinations for Veterans Day 2017:
Veterans Day Programs at Minute Man National Historical Park, Concord, Massachusetts
Minute Man National Historical Park is home to the sites of the April 19, 1775, battles of Lexington and Concord, the opening military engagements of the American Revolution. On Veterans Day, visit the park to learn about the role of Concord residents in World War I, including Margaret Lothrop and her involvement in the Red Cross in France. Visitors will also have the opportunity to learn about the minute men and the day when they answered the call to arms. Learn more.
Veterans Day at Historic Blakeley State Park, Spanish Fort, Alabama
Site of the Civil War's last major battle, the park will host a Veterans Day program including a bus tour of the 1865 Fort Blakeley battlefield, a cruise exploring the Civil War's Mobile Campaign, a lecture on Alabama in World War I, and Civil War weapons demonstrations. On Nov. 11, visit the park to learn more about Alabama's largest Civil War fight, including a special presentation about Union soldiers who received the Medal of Honor for their actions in the Battle of Fort Blakeley. Learn more.
Veterans Day at Fort McHenry, Baltimore, Maryland
Fort McHenry was the site of the 1814 American victory that inspired Francis Scott Key's poem "The Defence of Fort McHenry," which later became our national anthem. On Nov. 11, visit Fort McHenry National Monument to mark the centennial of America's involvement in World War I with programs about the U.S. soldier experience in the First World War. At 10:45 am, gather beneath the flagpole to learn about Veterans Day's origins, and join park rangers for a moment of silence to remember our veterans. Learn more.
Shiloh and World War I: A Comparative Hike at Shiloh, Shiloh, Tennessee
In honor of Veterans Day and the centennial of America's entry into World War I in April 1917, historian Dr. Jeff Gentsch will lead a walking tour comparing the First World War and the Civil War. As you hike 12 miles at the site of what was then the bloodiest battle in American history, you will learn about the many connections between the two wars, including the striking similarities between what the armies went through in adapting to the exigencies of modern, total warfare. Learn more.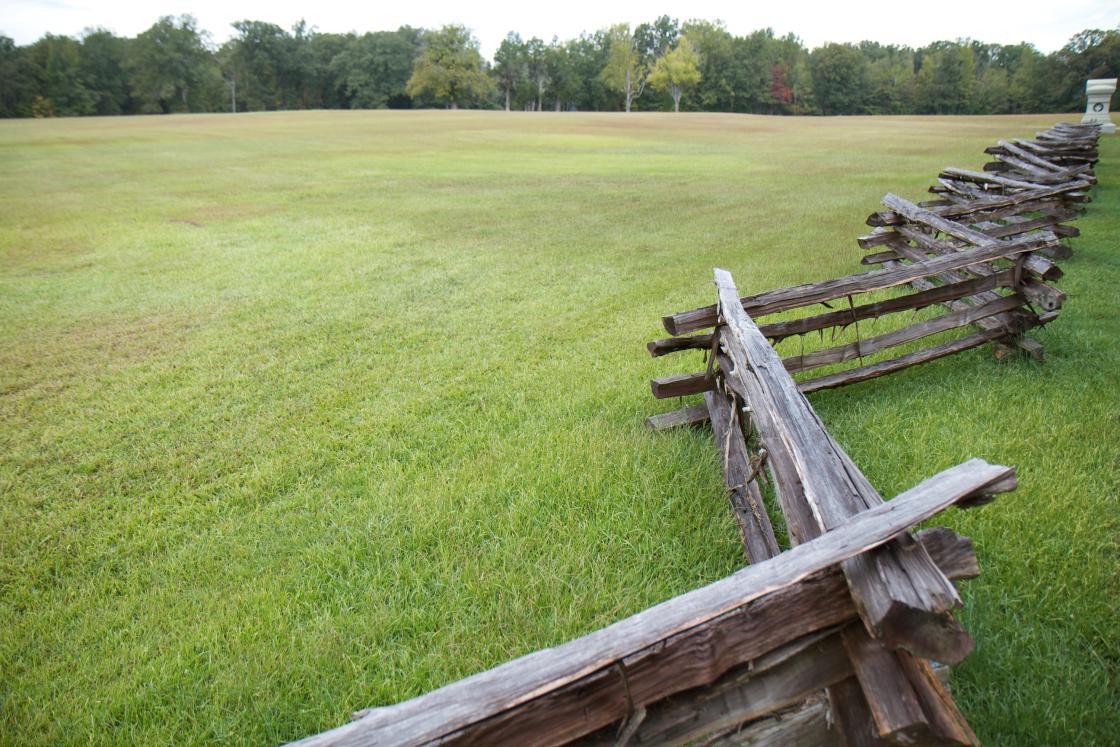 "The American Soldier Through History" at Wilson's Creek, Republic, Missouri
On Nov. 11, members of the National Park Service and the Sons of Union Veterans of the Civil War will present a military timeline at Wilson's Creek National Battlefield. SUV members will wear and display uniforms, equipment, weapons and personal items used by U.S. soldiers from 1775 to 2016, and discuss soldier life during each of America's major conflicts. Wilson's Creek was the first major Civil War battle fought west of the Mississippi River. Learn more.
Veterans Day at Saratoga, Stillwater, New York
On Nov. 11, join Saratoga National Historical Park in honoring all those who have served in the U.S. armed forces, including the Continental Army soldiers and militiamen who served at Saratoga in 1777.  Musket firing demonstrations and discussions about Revolutionary War soldiers will take place throughout the day. Saratoga was the site of a 1777 victory that is considered the turning point of the American struggle for independence. Learn more.
Commemorative Candlelight Tour at Bristoe Station Battlefield, Bristow, Virginia
During the Civil War, hundreds of Civil War soldiers were buried in the area around Bristoe Station after they succumbed to disease or lost their lives during the 1862 Battle of Kettle Run and 1863 Battle of Bristoe Station. On Veterans Day, visit Prince William County's Bristoe Station Battlefield Heritage Park for a special candlelight tour highlighting some of the men who died there. Learn more.
"History of the American Soldier" at Guilford Courthouse, Greensboro, North Carolina
Just seven months after his pyrrhic victory at Guilford Courthouse in March 1781, Lord Cornwallis would surrender to combined American and French forces under Gen. George Washington at Yorktown, Va. This Veterans Day, visit Guilford Courthouse National Military Park to experience a timeline exhibition of U.S. military history from the 1600s to the present. Each period will feature park volunteers portraying soldiers uniformed, equipped and armed according to the period they represent. Learn more.
These historic destinations are but a small fraction of the 600-plus heritage sites profiled on the Civil War Trust's website. This interactive resource, which includes events at partner sites, will help plan visits this Veterans Day weekend and beyond. Explore history and plan your next trip online at www.civilwar.org/visit.
The Civil War Trust is a national nonprofit land preservation organization devoted to the protection of America's hallowed battlegrounds.  Although primarily focused on the acquisition of Civil War battlefields, through its Campaign 1776 initiative, the Trust also seeks to save the battlefields connected to the Revolutionary War and War of 1812.  To date, the Trust has preserved more than 47,000 acres of battlefield land in 24 states. 
The Civil War Preservation Trust became the Civil War Trust in January 2011; the Civil War Trust became a division of the American Battlefield Trust in May 2018. Campaign 1776 was created in 2014 as an initiative of the Civil War Trust; in May 2018 it became the Revolutionary War Trust, a division of the American Battlefield Trust.