News
Commemorate the Founding of the Nation at These Eleven Fourth of July Festivities
Marking our nation's founding, Independence Day provides an opportunity to celebrate at these special events recommended by the American Battlefield Trust
Colleen Cheslak-Poulton, (202) 367-1861 x7234
(Washington, D.C.) — On July 4, 1776, delegates from the 13 American colonies gathered during the Second Continental Congress to unanimously adopt the Declaration of Independence, thereby announcing the colonies' separation from Great Britain. 247 years later, Americans still gather to celebrate this date and the brave story of struggle and sacrifice it encompasses. To ensure that individuals across the land of liberty make the most of this special holiday, the American Battlefield Trust recommends the following 11 events at historic locations around the nation. For even more events, explore calendars maintained by the National Park Service, as well as those of state parks and museums near you.  
July 1-3: 160th Anniversary of the Battle of Gettysburg, Gettysburg, Pa. 
Join Gettysburg National Military Park during the 160th anniversary of the battle that marked a major turning during the Civil War. Anniversary programming will include special hikes, guided tours, living history camps and demonstrations, family programs and hands-on experiences.  Learn more. 
July 4: Independence Day Celebration at Fort Scott National Historic Site, Fort Scott, Kan. 
Celebrate Independence Day and the summer holiday with talks, tours and living history programs about Fort Scott's role in the American story. Visitors can participate in Civil War arms discussions, take a guided tour around the fort and learn about the history of combat photography. Learn more. 
July 4: Independence Day the 18th Century Way, Rome, N.Y. 
Join staff and volunteers at Fort Stanwix National Monument in celebrating our nation's birthday. Visitors can witness the annual Rotary ceremony at the Tomb of the Unknown Revolutionary War Soldiers and listen to a public reading of the Declaration of Independence, with cannon and musket salutes continuing throughout the day. Learn more. 
July 4: Independence Day Celebrations at Boston National Historic Park, Boston, Mass. 
Join a family-friendly Independence Day celebration at Old North Church, including story readings for children, guided tours around the church and an interactive experience with historian Adam Hodges-LeClaire. Additionally, Old North Church will host a performance of the original play, Revolution's Edge. Learn more.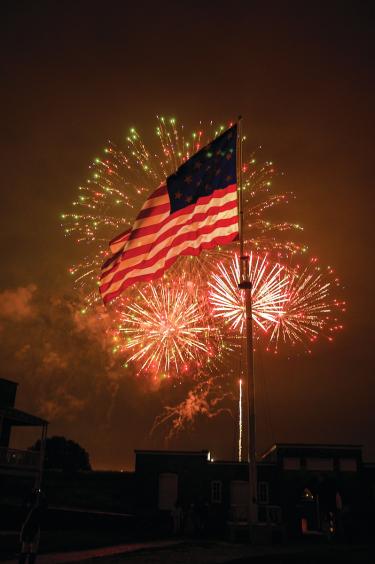 July 4: Celebrate the Glorious Fourth at Fort McHenry National Monument & Historic Shrine, Baltimore, Md. 
Join Fort McHenry for an old fashioned Fourth of July! Visitors can join a park ranger and start the day with the raising of the Star-Spangled Banner over the fort's ramparts and proceed with learning about Fort McHenry's role in the Battle of Baltimore and the Chesapeake Campaign of the Revolutionary War. Learn more. 
July 4: Independence Day Festivities at Independence National Historical Park, Philadelphia, Pa. 
Take part in a number of celebratory events at Independence National Historical Park. Visitors can learn about colonial printing and the first versions of the Declaration of Independence, listen to a park ranger discuss the Park's role as a POW-MIA site during the Revolution or participate in a debate based on stories of the past and how they influence present-day Philadelphia. Learn more. 
July 4: Fourth of July at Perry's Victory and International Peace Memorial, Put-in-Bay, Ohio 
Visit Perry's Victory and International Peace Memorial on Lake Erie to see stunning views from the observation deck. Celebratory fireworks will commence after dark on the memorial's lawn. Learn more. 
July 4: Old-Fashioned Fourth at Bent's Old Fort National Historic Site, La Junta, Colo. 
Commemorate our nation's founding with a trip to Bent's Old Fort for an 1840s style celebration! Special activities include a parade, orations and family-friendly games. Visitors can also participate in a drawing to win a flag that has flown over the fort. Learn more.  
July 4: Public Reading of the Declaration of Independence, Stillwater, N.Y. 
This Independence Day, relive how most Americans first heard the Declaration of Independence in 1776, through a public reading! Be inspired by the words of our Founding Fathers at this Revolutionary War historic site. Learn more.  
July 4: Fireworks Blast at Patriots Point, Mt. Pleasant, S.C.  
Hop aboard the USS Yorktown for an Independence Day celebration packed full of fun for the whole family. With Charleston Harbor as a backdrop, visitors can expect food trucks, live music and a firework show after sunset. Learn more. 
July 4: Old State House Celebration, Dover, Del. 
Celebrate Independence Day in the first state's capital! The city of Dover is hosting several events to commemorate the holiday, including tours at the Old State House and at First State Heritage Park. Later in the day, enjoy a patriotic parade featuring floats, marchers, antique and classic cars and more, before a grand firework display into the night. Learn more. 
The American Battlefield Trust is dedicated to preserving America's hallowed battlegrounds and educating the public about what happened there and why it matters today. The nonprofit, nonpartisan organization has protected more than 56,000 acres associated with the Revolutionary War, War of 1812 and Civil War across 155 sites in 25 states. Learn more at www.battlefields.org. 
###