News
Bring History to Life with Dazzling Holiday Adventures
Catch a glimpse of how Americans celebrated the holiday season during wartime
(Washington, D.C.) — As Americans kick off the busy holiday season, our nation's battlefields and historic sites are busy preparing events that commemorate holidays long ago. Our hallowed grounds offer uniquely moving venues which allow visitors to experience the season as it was celebrated by our citizen-soldiers early in America's history. In honor of this joyous time, the American Battlefield Trust recommends the following seven activities this holiday season:
December 1-2: Drum Barracks Civil War Christmas, Wilmington, California
Join the Drum Barracks Civil War Museum for its 18th annual Holiday Celebration. Visitors can enjoy a free ride on horse-drawn carriages decorated for the holidays, as well as live Victorian music, special displays, children's crafts and free self-guided tours of the museum. Learn more.  
December 1: Annual Christmas and Candlelight at Historic Washington State Park, Washington, Arkansas
Historic Washington State Park will awe visitors with the natural beauty of candlelit streets. Period-appropriate decorations and music will greet visitors, who can also enjoy a horse-drawn surrey ride or explore the gift shops for that special holiday gift. Daylight tours are from 1-5 p.m.; candlelight tours are from 5-8 p.m. Learn more.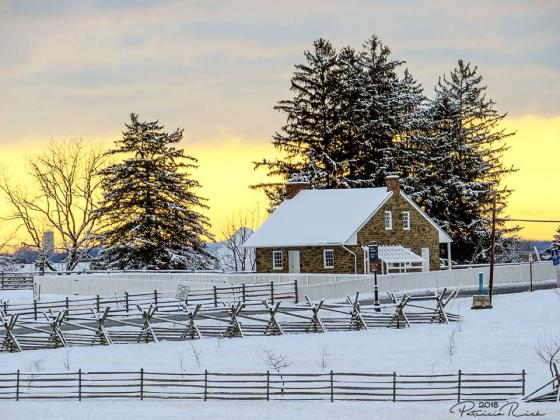 December 8: Inns of Gettysburg Holiday Open House Tour, Gettysburg, Pennsylvania
The American Battlefield Trust is holding an open house at the site of Gen. Robert E. Lee's headquarters in Gettysburg as part of the Inns of Gettysburg Holiday Open House Tour. The house and grounds, which served as Gen. Lee's command center during the Battle of Gettysburg, were preserved by the Trust in 2016 as part of a $6 million acquisition and restoration project. In addition, the grounds and interpretive trail will be open from sunrise to sunset. Learn more. 
December 8: Christmas through the Ages at Fort Gaines, Dauphin Island, Alabama
Fort Gaines will provide visitors a taste of Christmas through the ages. The 19th-century fort, best known for its role in the Battle of Mobile Bay, will provide a picturesque backdrop as visitors learn about historical Christmas celebrations from soldiers in the 1700s through the 1900s and children craft seashell ornaments. Learn more.
December 9: Colonial Christmas at Brunswick Town, Winnabow, North Carolina
Join Brunswick Town/Fort Anderson State Historic Site to explore how the American colonists celebrated Christmas. Costumed interpreters will provide guided tours of St. Philips Anglican Church, and visitors can enjoy colonial refreshments, participate in traditional games or try a variety of 18th century crafts. The highlight of the evening will be an authentic period candlelit service in the ruins of St. Philips Anglican Church. Learn more.
December 14-15: Candle Lantern at Fort Pulaski National Monument, Savannah, Georgia
Fort Pulaski will again commemorate the Confederate Nog Party of 1861. The long-lived Savannah tradition will feature night-time tours of the fort by candlelight and oil lamps, giving visitors a glimpse into the Christmas party that gave the Confederate garrison at the fort a respite from the tension of impending battle in 1861. Visitors can experience a candlelight-guided tour of the fort while hot cider, egg nog, cookies, caroling and night-time weapons firings allow visitors to re-live the festive occasion. Seven programs will be offered in the evenings. Learn more.
December 25: Christmas Day Crossing Reenactment, Washington Crossing, Delaware
On December 25, 1776, George Washington dared to cross the Delaware River, and his brave actions led to the defeat of the Hessians in Trenton and a turning point in the Revolutionary War. On Christmas Day, join fellow citizens from around the country to see several hundred reenactors clad in Continental military dress, including George Washington himself. Listen as General Washington delivers an inspiring speech and leads his troops across the river in replica Durham boats. Learn more.
For more ideas, check the American Battlefield Trust events page, National Park Service events calendar, visit a state park website or search for museums and historic sites near you.
The American Battlefield Trust is dedicated to preserving America's hallowed battlegrounds and educating the public about what happened there and why it matters today.  The nonprofit, nonpartisan organization has protected more than 50,000 acres associated with the Revolutionary War, War of 1812 and Civil War.  Learn more at www.battlefields.org.