News
American Battlefield Trust Charges Forward to Ensure Protection of 57 Acres of Richmond-Area Battleground
Nonprofit seeks to save two properties associated with a total of five Civil War battles
Colleen Cheslak, (202) 367-1861 ext. 7234
(Richmond, Va.) — After more than two decades of working to save America's hallowed ground, the American Battlefield Trust has an opportunity to save two tracts of battlefield land associated with five different Civil War battles for the first time in its history. Motivated by well-funded competitors and a year-end goal, the nonprofit is striving to protect 57 acres connected to the battles of Gaines' Mill, Cold Harbor, Glendale, Malvern Hill and First Deep Bottom. At the heart of the fundraising campaign is a 45-acre property in the Richmond suburbs — a portion of the square-mile of ground that served as the catalyst for the Trust's 2020 launch of the "Gaines' Mill – Cold Harbor Saved Forever Campaign."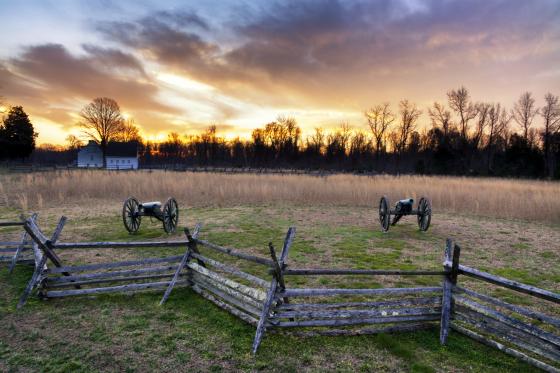 "Historians have long deemed this square-mile to be one of the most historically significant yet unprotected Civil War landscapes," said Trust President David Duncan. "Year by year, we're chipping away at this preservation effort and paving a path toward victory."
Over the course of two years, the Gaines' Mill – Cold Harbor Saved Forever Campaign has successfully protected 207 acres at two locations — the tract called "Pickett's Charge Five Times as Large" and another aptly named "The Intersection" because of its intersecting location for these two battles. Now, the Trust has its sights set on 45 acres referred to as "The Juncture at Griffin's Woods." 
So named for Union Brig. Gen. Charles Griffin, who defended this land alongside his V Corps brigade during the Battle of Gaines' Mill, this tract serves as a critical juncture between battlefield properties the Trust has already saved to the east, west and north — completing an uninterrupted section of the battlefield. Plus, this land remains unchanged from its wartime appearance, making it easy to imagine the dozen brigades that ferociously fought within the forest in 1862 (Gaines' Mill) and 1864 (Cold Harbor). 
The Trust is also targeting a nearly 12-acre tract of land that will, for the first time, connect the Glendale and First Deep Bottom battlefields with nearby Malvern Hill, creating an extended "walk through history." 
While the 57 acres are valued at $677,299, current contributions and grants are estimated to cover $570,000, leaving the Trust to raise the remaining $107,000. Learn more at www.battlefields.org/GMCH2022N.   
The American Battlefield Trust is dedicated to preserving America's hallowed battlegrounds and educating the public about what happened there and why it matters today. The nonprofit, nonpartisan organization has protected more than 55,000 acres associated with the Revolutionary War, War of 1812 and Civil War. Learn more at www.battlefields.org. 
###