John Marshall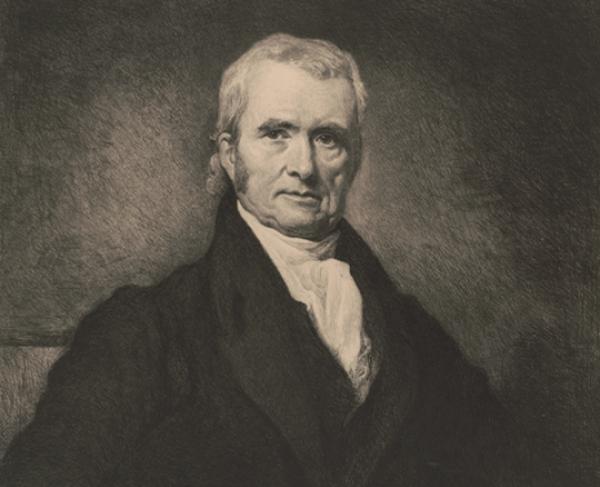 TitleSupreme Court Chief Justice
War & AffiliationRevolutionary War / Patriot
Date of Birth - DeathSeptember 24, 1755 - July 6, 1835
John Marshall was born on September 24, 1755, in Fauquier County, Virginia. As a young child, Marshall grew up on his father's estate "Oak Hill" in Delaplane, Virginia. Marshall attended the Westmoreland County Academy with James Monroe and the two became lifelong friends. In 1776, Marshall enlisted in the Virginia Minute Men at the rank of lieutenant. By July of 1778, Marshall had become a captain in the Continental Army.  
After the Revolutionary War, Marshall enrolled in the College of William & Mary and completed his law degree. For a short time, Marshall established a law practice in his home county of Fauquier. A few years later, Marshall opened a law practice in Richmond, Virginia, where he lived most of his adult life. In 1797, President John Adams sent Marshall to France to negotiate a treaty with the new Republic of France. Marshall and the other diplomats were unable to reach an agreement with the French, however, Marshall was praised nationally for being unwavering to the French. In 1800, Marshall was appointed as Secretary of State under John Adams.  
In less than a year in 1801, Marshall was appointed as the Chief Justice of the Supreme Court. While Chief Justice, Marshall was instrumental in establishing judicial review, defining the necessary and proper clause within the Constitution, and deeming monopolies unconstitutional. Some of Marshall's defining cases include Marbury v. Madison, McCulloch v. Maryland, and Gibbons v. Ogden. However, Marshall saw a total of thirty cases as Chief Justice.  
In 1835, Marshall was traveling to Philadelphia for medical treatments regarding a bladder stone removal. After complications, on July 6, 1835, John Marshall passed away at the age of 79. The Liberty Bell was rung for one last time. There are local myths that after the Liberty Bell was rung after Marshall's death the Liberty Bell cracked. Marshall's body was transported from Philadelphia to his home in Richmond, Virginia. He was interred in Shockoe Cemetery in Richmond.  
Marshall's legacy extends beyond the courthouse. Near his childhood home Oak Hill, a nearby town was named Marshall, Virginia after the Chief Justice. A copper statue of Marshall stands in front of the Juvenile and Domestic Relations District Courthouse near his home in Warrenton, Virginia. Marshall's accomplishments in the courtroom were paramount for the success of the newly formed country.