Save 36 Acres of Hallowed Ground at Two Virginia Taverns
A message from David Duncan, American Battlefield Trust president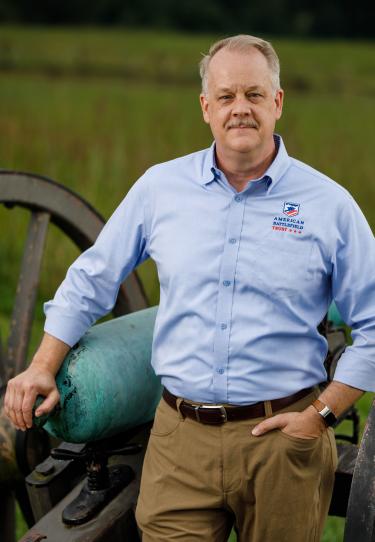 November 9, 2020
Dear Fellow Preservationist,
Stonewall Jackson, Ulysses S. Grant, Robert E. Lee, Winfield Scott Hancock, Wade Hampton, Phil Sheridan, George. A. Custer . . . what do these generals have in common?
Each of them played a part in stories that unfolded at two special Virginia "taverns."
Whether wearing blue or gray, those men fought, walked, reflected, and even slept on the land at one of these two taverns — the Old Cold Harbor Tavern and the Netherland Tavern at Trevilian Station.
Today, I'm writing to share a special opportunity to save irreplaceable battlefield land at these two Virginia taverns while quadrupling the impact of your donation dollar!
The first tract includes just over 30 acres of twice-hallowed ground at Cold Harbor Tavern that saw action in both the 1862 Battle of Gaines' Mill and the 1864 Battle of Cold Harbor, which took its name from the tavern that originally stood on this property. 
The second tract includes almost 6 acres at Trevilian Station, located around the Netherland Tavern, which is arguably the most significant historic land on the first day's battlefield and the place where George Armstrong Custer made his "first last stand."
I will expand on the abundance of history that can be saved at both of these sites in just a moment (and believe me, there is much to share!), but first, I must tell you that we're working against a tight deadline for each of these sites:
Put simply, we need to close on both properties by the end of 2020, which means that I must ask for your generous support as soon as possible!
Please consider how heartbreaking it would be to see either of these tracts destroyed forever. As I will explain in a moment, we've already lost a bit of history at both sites, but thankfully, it's not too late to save these tracts and add to the impressive work you've made possible on both battlefields.
Thanks to a combination of federal grants and support from the Trevilian Station Battlefield Foundation, plus an incredibly generous grant from our longtime major partner, the HTR Foundation — the single largest donor in our history (but for them, we couldn't have saved thousands of acres of battlefield land, and this is no exception!) — and the generosity of members like you, we only need $201,000 of the total $932,000 transaction value in order to save this land for all time. 
This means that by joining me in this important effort today, you can take advantage of a $4.64-to-$1 match of your donation dollar, more than quadrupling your impact! 
It is up to preservationists like you and me to make certain that we raise the final dollars needed to ensure that this land is saved in perpetuity. I hold firmly that it is our duty to protect, add to, and pass on whole and intact our nation's hallowed ground for future generations. 
Today, we have the opportunity to do just that, while adding to the incredible preservation work that's already been done at one battlefield, and getting even closer to substantially completing another. 
Now let me turn to the history of the two tracts we are working diligently to save, and explain how much happened on these pieces of hallowed ground. 
I'll begin with the roughly 30 acres at Cold Harbor Tavern, near Richmond, Virginia. The property is located at the meeting-point of five Civil War-era roads (the same roads still make up the intersection today!) that played an important role in both the Battle of Gaines' Mill in 1862 and the Battle of Cold Harbor in 1864. 
Each of these battles were part of major campaigns in the Eastern Theater, and they are well-known for the famed figures who fought there (General Robert E. Lee, for example, commanded the Army of Northern Virginia during both), but I think it's worth emphasizing again that this tract especially important. In fact, historians have described this particular portion of the intersection, on the southeastern corner, as holding perhaps the most historical significance of any of the properties at the crossroads because it was originally home to the "Old Cold Harbor Tavern," which lent its name to the 1864 battle. Though the latter battle was named after the tavern, the site's Civil War history begins with Gaines' Mill:
In late May of 1862, as he led his troops across Virginia on his Peninsula Campaign, Union General George B. McClellan made his headquarters at the tavern, likely working from tents set up in the tavern yard.  Just a month later, after Confederate forces had taken control of the crossroads, General Thomas J. 
"Stonewall" Jackson also made camp at the Old Cold Harbor Tavern, and remained in the vicinity for the duration of the fighting that took place at the crossroads. Both Jackson and Confederate cavalry chief General J.E.B. Stuart reportedly slept beneath a tree in the tavern's yard on the night of June 27-28, 1862.
Nearly two years later, during the Overland Campaign, combat again raged across these acres during the Battle of Cold Harbor. If you look to your map and find Rockhill Road, you can see where Union Colonel Thomas C. Devin's brigade of horsemen advanced westward on May 31, 1864, toward Confederate cavalry led by General Fitzhugh Lee, whose famed uncle was commanding Confederate forces just a few miles away from the tavern. The climax of that battle swept over the tract we are working to save, and thereafter, the site became a hub for the remaining Union movements at Cold Harbor. 
Over the course of the next several days, General Winfield Scott Hancock oversaw the progress of the Second Corps assaults from a spot near the tavern, a Sixth Corps physician from Vermont set up a field hospital "among the trees in the yard," and Gen. Ulysses S. Grant himself stopped at the site on June 3 while surveying the state of his troops. Another Union general, James B. Ricketts, who earned a brevet promotion for meritorious service at Cold Harbor, also made the tavern his headquarters at least once over the course of the battle. 
It's known that a number of Federal soldiers were buried at the crossroads in the immediate aftermath of the battle. Though at least 170 of these men were later moved to the Cold Harbor National Cemetery down the road, it is no exaggeration to say that this is truly hallowed ground, and we must do everything in our power to ensure this land is never desecrated by development. 
Unfortunately, the original tavern burned down in the early twentieth century, and the original entrenchments and defensive breastworks have disappeared. Today, a dilapidated structure remains on the property ready to be replaced by a modern commercial enterprise at this historic intersection . . .
But luckily, it is not too late to save this twice-hallowed ground! If we act now (and we must act now, given the deadline I mentioned) we can preserve the remaining acres of this property and restore them to their original condition. 
And while I know the history of this tract is remarkable in itself, I have even more good news about this particular tract . . . 
You will likely recall the Trust's major efforts at the end of last year to avert absolute disaster on the Gaines' Mill and Cold Harbor Battlefields, and thanks to support from individuals like you, we succeeded in stopping the development of a massive sports-plex. If you look to your map, you can see that 50-acre property, located adjacent to the Cold Harbor Tavern tract — by acting today, you and I can continue 2019's critical effort and build on that success.
Now, turn your eyes about 60 miles northwest where, almost simultaneously, another major battle of the Overland Campaign — and, more recently, another site of exceptional preservation work — unfolded: Trevilian Station. 
Here, too, you and I have the opportunity to save the site of a tavern that shaped history…this time, the Netherland Tavern, a site that has also been deemed by historians as critical to telling the story of the battle that took place there. 
But before I go any further, let me tell you, the generosity of individuals like you has already accomplished so much at the site of the largest all-cavalry engagement of the Civil War — to date, your dedication has saved more than 1,400 acres of this battlefield, and now we have an opportunity to add to that tremendous work, bringing us one step closer to completely saving this hallowed ground.  
From June 10-11, 1864, Confederate General Wade Hampton made his headquarters at the Netherland Tavern, sleeping on a wooden carpenter's bench that evening. At the tavern, Hampton told two of his subordinate officers early in the morning, "I propose to fight," when they asked him his intentions for the day. And fight they did.
Fierce, dismounted combat ensued, during which General George A. Custer and his brigade of Michigan cavalrymen succeeded in slipping between Hampton and Gen. Fitzhugh Lee, who was making his way toward the area just south of the tavern with reinforcements. The Federals captured Hampton's supply wagons, but not before Lee's troopers managed to catch up to them . . .
In what noted historian Eric Wittenberg dubbed "Custer's first last stand," Custer and his brigade of Michiganders found themselves completely encircled, desperately fending off enemy cavalry on all sides. General Wesley Merritt's Reserve Brigade, part of General Philip H. Sheridan's corps, was eventually able to push through the Confederate lines, saving Custer's troops from destruction and setting the stage for Union forces to take control of Trevilian Station by the end of the day. 
The Netherland Tavern marked the focal point of some of the heaviest fighting that day, and as Wittenberg explains, all of these actions and events make the Netherland Tavern tract "stand out as the crown jewel of the many parcels of real property that make up the first day's battlefield."
And what's more, at this particular Trevilian Station tract, we will be building on preservation work that has already been done to ensure the memories of the citizen-soldiers who fought and died on these fields will never be forgotten.
Although the original tavern no longer stands, a historically-minded and generous Richmond-based building contractor constructed a replica of the tavern right next to the site of the original structure, which still stands to this day. 
Together, we can add one more crucial piece to the puzzle of the Trevilian Station battlefield, bringing us even closer to saving this incredible landscape for all time. 
Just think for a moment how wonderful it would be if we were able to do at all battlefields what we are working to do at Trevilian Station . . . to substantially save the battlefield for future generations to experience and learn from.
Don't our grandchildren deserve the chance to walk in the footsteps of those who made our history first-hand? Imagine having the opportunity not only to read about, but to see and walk on the land where Stonewall Jackson slept beneath a tree the night before battle, or where George A. Custer decided to make a daring attempt to overtake Hampton's supply wagons. 
These sites, these acres, have much to teach us all about our past, and it is our duty to ensure future generations will have the chance to learn from these remarkable outdoor classrooms.
As a native Virginian, it pains me personally to think of losing any part of either of these tracts. This state saw many of our nation's Civil War battles, and over the course of my life, I've seen how too many of them have been encroached upon and even completely lost to development.
Every piece of the battlefield is important to telling the story of what transpired on our nation's hallowed ground, and these are critical. So what can we do as we face this ever-present danger?
My fellow preservationists, let me echo the words of Wade Hampton for a moment: "I propose to fight." Today, I propose that you and I fight as well, to preserve the battlefield lands all across this country that not only saw sacrifice and service, but that shaped our nation's history. 
Will you stand beside me now in the fight for our nation's hallowed ground with your most generous gift today? I thank you in advance for all you are doing for this cause, and for all you are doing for American history. 
Yours Sincerely,  
David N. Duncan, President
P.S.   Remember, if you act today, you can quadruple the power of your donation, taking advantage of a $4.64-to-$1 matching opportunity and helping us raise the $201,000 we need to close on these two properties by the end of the year!  
P.S.S.  If you would like to donate securely online, please visit the special appeal page we have created on our website at www.battlefields.org/2taverns. Your gift today will help secure two of the most important currently available tracts at both of these battlefields while adding to the tremendous preservation work you've achieved there. Please send your most generous gift today! Thank you again.