Slaughter Pen Farm Still Needs You
A message from David Duncan, American Battlefield Trust President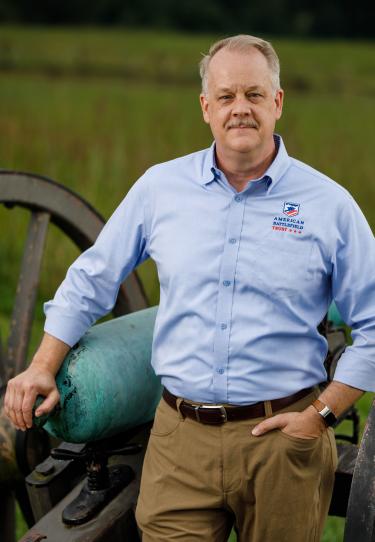 February 5, 2021
Dear Friend and Fellow Preservationist,
It's not often that you can see a nightmare on a piece of paper, but that is exactly what I've sent to you today.
As you look at the disturbing image of row upon row of warehouses and industrial development, depicted on the back of the map of the Battle of Fredericksburg, this is exactly the stomach-turning nightmare we saw at the Trust fifteen years ago. Let me tell you the story: 
In 2006, the farmer who owned this 208-acre property had recently passed away, and his heir put the farm up for sale on the open real estate market. Even though it was still farmland and mostly unchanged since the battle, the property had been rezoned and was advertised as the "prime light industrial development site in the Commonwealth of Virginia." 
The purchase price: $12 million. 
But it wasn't just any Virginia farm, my friend. This land, on December 13, 1862, was turned into something known forever after as "the Slaughter Pen Farm." 
On that fateful day, Union forces led by General Ambrose Burnside attempted to make a frontal assault over an open plain against the Confederate line commanded by General Robert E. Lee. 
The day of attacks and counterattacks produced staggering casualties and little ground gained or lost for either side. Though Union troops under General George Gordon Meade would briefly break through Confederate General Thomas "Stonewall" Jackson's line, they were repulsed by a counterattack. Meanwhile, Burnside's offensive against the Confederates at Marye's Heights resulted in horrendous casualties as line after line of Union soldiers fell to withering musketry and artillery fire from the fortified Confederates.
Listen to what Frank O'Reilly, historian and author of the authoritative book on the battle, The Fredericksburg Campaign: Winter War on the Rappahannock, says about this hallowed ground:
"The Slaughter Pen Farm is the very heart and soul of the Fredericksburg Battlefield. Without it, nothing makes sense. This is the point where the battle was won and lost on December 13, 1862. After Burnside's bloody failure here, there was nothing the Union Army could do to win the Battle of Fredericksburg – or the Confederates to lose it. Correspondingly, this is where preservation ultimately will win or lose the struggle for Fredericksburg's history."
You may also remember this story: Robert E. Lee, scanning the carnage and chaos of the battlefield through his field glasses from his command post, was looking at the Slaughter Pen Farm sector of the battlefield, deeply moved by the thousands of dead and wounded soldiers of both sides falling, their lifeblood pouring out onto that ground, when he uttered his famous quote: "It is well that war is so terrible; we should grow too fond of it."
A dear friend to myself and so many of you, the late Ed Bearss, legendary Historian Emeritus of the National Park Service and a man whose knowledge of battlefields was unsurpassed by anyone, said this about that ground:
"To fully understand the battle and this lost Union opportunity, I would counsel that it is more important to save this land – which looks today much as it did on the day of the battle – than to try to reclaim any of the battlefield in front of Marye's Heights. This is one of the most important pieces of battlefield land the Civil War Trust has ever attempted to save."
But in 2006 (and just like today), we didn't have $12 million just lying around. Not even close . . . yet if we did not take a calculated risk that was audacious, bold, and yes, perhaps just a little bit crazy, that battlefield . . . the place where the Battle of Fredericksburg was decided . . . was going tobe destroyed.
That hallowed ground where 9,000 soldiers were killed, wounded, or captured…that ground could have been blanketed by the kind of industrial nightmare shown in that image. 
And what's more, this land witnessed acts of valor that resulted in five Congressional Medals of Honor. Just think for a moment what it could mean if the story of the Slaughter Pen Farm, if the stories of those heroic actions, were lost forever.
If you and I had not taken decisive action then, future generations might never have heard those stories…
The story of George Maynard, a soldier who carried his wounded companion to safety in the heat of battle…the stories of Martin Schubert, Joseph Keene and Phillip Petty, who each took up the colors in the face of battle, when their comrades fell before them…the story of Charles Collis, a colonel who also took up his unit's standard before leading a courageous charge into a Confederate counterattack…
But in 2006, the Board of Trustees and the members of the Trust looked at this crisis and said "No! We cannot lose those stories or these critical pieces of our country's history! We took the calculated risk and decided that together, we must do whatever it takes to save this battlefield – it is THAT important, and this is our mission!" 
Remember, this $12 million transaction was the largest private battlefield purchase in America's history, and remains to this day the biggest transaction the Trust has ever attempted.
We utilized federal matching funds . . . we used Virginia tax credits . . . we received $1 million from our friends at the Central Virginia Battlefields Trust . . . and of course, we received millions of dollars from generous, committed members just like you. 
There is no way I can adequately express my appreciation. "Thank you" doesn't seem like quite enough for all you have done to help save something so important. 
The good news is that in fifteen years, we have already paid off more than 75 percent of the debt for the purchase of this land (we are beginning to see the light at the end of the tunnel!) – ground which is as pristine today as it was on the day of the battle more than 150 years ago, when the soldiers experienced it. This is a tremendous accomplishment.
During that time we not only removed several non-historic structures (thereby restoring the land and the view the soldiers had) but also took advantage of the ups and downs in the economy, to refinance our loan, saving us several percentage points (and many tens of thousands of dollars in interest) and allowing us to make payments based on a 20-year repayment schedule! 
And best of all, thousands of visitors have now walked in the footsteps of heroes on this amazing field, following the Trust-created interpretive trail. The land, which had been completely off-limits to the public for decades, is now telling the full story of the Battle of Fredericksburg in ways that have never been told before. 
But the bad news is that until the remaining debt of $2.7 million is paid off completely, this battlefield is not truly "saved."
What this means is that every year, we must budget for the annual loan payment $300,000 out of our unrestricted funds, and I don't need to tell you that there aren't many people who view paying off a loan as "sexy" or "exciting."
But of course, it must be done. It is just like your mortgage on your house; if you don't make the payments, you lose the property!
It will take another six years to fully pay off the loan, and, full disclosure, our annual payment is currently scheduled to go up to $400,000 per year beginning in 2022, until it is fully paid off.
But even though that unwelcomed increase is just around the corner, I have some more good news for you — a group of very generous donors is looking to help accelerate payments to the debt (we'll keep you apprised on that), and this year, several members have stepped up with a dedicated dollar-for-dollar match, up to $150,000!
This means that your gift to save this hallowed ground will be doubled!
My friend, as you know, so much of the Fredericksburg battlefield has already been lost to development. Thanks to your generosity, the Slaughter Pen Farm is off the market, and we have put a perpetual historic preservation easement on the property so that it can never be developed. 
But, to put things quite frankly, it cannot be considered truly "saved forever" until the remaining balance of $2.7 million is paid off.
So please, although you have already done so much to save our nation's hallowed ground, especially throughout these challenging times, will you help once again with your gift to save this land and make the $150,000 challenge match? 
I know that the past year brought more turbulent times and uncertainty than many of us have experienced in our lifetimes, but your continued support has reminded me that I have the privilege of working alongside some of the most dedicated and determined preservationists I could imagine. 
Today, I call on you once more to please be as generous as you can and again help the Trust meet its annual loan obligation for the Slaughter Pen Farm. 
Before I go, allow me to share a few more words from our friend, Frank O'Reilly, that help bring into focus the reason saving this land forever is so important: 
"Standing on this unblemished historic land – christened in the blood of brave men, North and South – one touches the past, and understands the sacrifices of those men on the most decisive point of the Fredericksburg Battlefield. They fought for this land, and paid for it with their lives – for the future, for us. We need to fight for this land, too – for the past, for them, lest we forget…This hallowed ground means more to me than just about any other in Civil War history. If it is lost, then the whole Fredericksburg Battlefield will become meaningless and irrelevant."
Through your generous contribution, tell me how much this hallowed ground means to you. Make your heroic gift in honor of a parent, teacher, or friend who sparked your interest in history, in honor of your own children or grandchildren.
Or join me in making your gift in honor of this great country, passed on to us because of the sacrifices made on fields like this one at Fredericksburg, and all across the nation. 
Whatever the reason for your generosity today, please know that you have my deepest thanks for all you are doing to save our nation's history. You will always be a hero in my book. 
Most sincerely yours,
David N. Duncan, President
P.S. I truly have no substitute for your generosity. I hope that you will continue to build upon your personal legacy at the Slaughter Pen Farm in Fredericksburg by making your generous gift today. If you and 1,499 members answer my call for help today with a gift of $100, we will raise enough to assure the $150,000 match we need to make this year's payment!
Don't forget! There's so much more information about the Battle of Fredericksburg and this effort on our website at battlefields.org/slaughter-pen-farm-still-needs-you. Please also visit our Medal of Honor Database at battlefields.org/learn/medal-of-honor, where you can learn even more about the soldiers who exemplified such valor on this battlefield. Thanks again!
P.P.S. And even if you cannot get to Slaughter Pen Farm in person, you can visit the battlefield virtually through our FREE downloadable Fredericksburg Battle App, deepening your understanding of the historic events that happened on this hallowed ground. Go to battlefields.org/visit/mobile-apps/fredericksburg-battle-app to get yours today!
Explore Slaughter Pen Farm