Save 40 Acres of the American Revolution Southern Theater
A message from David Duncan, American Battlefield Trust president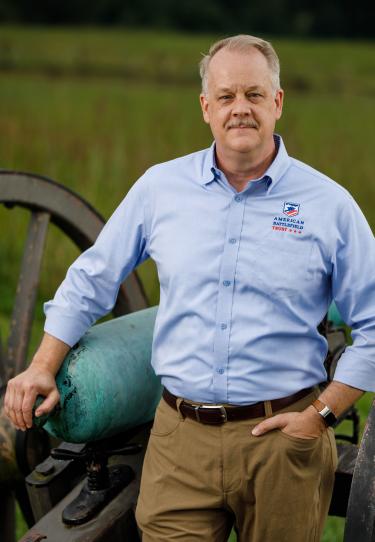 November 25, 2020
Dear Fellow Preservationist,
Can you match these participants and battles from the Revolutionary War's Southern Theater?
Port Royal Island

Francis Marion

Great Bridge

2 Signers of the Declaration
of Independence

Parker's Ferry

Ethiopian Regiment

If you guessed that the Ethiopian Regiment served at Great Bridge, that two signers of the Declaration of Independence fought alongside each other at Port Royal Island, and "the Swamp Fox" Francis Marion launched one of his most successful ambushes at Parker's Ferry, then you are three for three and did better than some of our staff!
If you happen to be less familiar with these battles, please read on to learn more about why each of them, while little-known, were crucial to our nation's history, helping to pave the way for Independence.
Today, you and I have a unique opportunity to save essential land at all three of these sites, which is critical to telling the story of the Southern Campaign of the American Revolution.
Today, nearly 245 years after the first of these battles, we have the chance to preserve forever a key acre at Great Bridge in Virginia, eight acres at Port Royal Island in South Carolina, and 31 acres at Parker's Ferry, also in South Carolina. From a "a second Bunker's Hill affair" and a surprise Patriot victory, to one of Francis Marion's "quintessential" ambushes, each of these sites has an important story to tell.
But before I go into detail about the history that unfolded at each of these battlefields, I have to tell you about an incredible matching opportunity . . .
If we act now, we can save these three tracts — a total transaction value of $2,335,630 — for only $30,630!
In other words, you and I need only to raise the final 1.3% of the total transaction to save priceless pieces of American history for all time.
Or to say it still another way, any gift you give today will be multiplied by a factor of 80! That's an $80-to-$1 match!
Just to put things in perspective, that's the same as you buying a $45,000 car for only $562!Or buying a $1 million house for only $12,500!
As you can see, this is a preservation opportunity we simply can't pass up. And make no mistake about it, these properties are highly threatened. The tract at Great Bridge, for instance, was being marketed as an ideal site for a retail strip shopping center until the Trust secured a contract to preserve it!
It is also unique because of the partnership that's making it possible — a never-before-dreamed-of fusion of federal, state, county, and local grants, as well as a grant from the U.S. military, support from our great partners the South Carolina Battleground Preservation Trust and the Great Bridge Battlefield & Waterways History Foundation, and even a landowner donation!
I can tell you from 20+ years of experience that there just haven't been very many deals with this many partners working together to save our nation's history, or where you and I can put in pennies on the dollar to save some of our nation's most important Revolutionary War hallowed ground.
With this remarkable opportunity, we can save 40 acres that tell critical, if little-known stories of our nation's founding conflict, where citizen-soldiers fought and died for American Independence.
Now… for the history on these three Revolutionary War tracts. Let me begin by telling you a bit more about the Battle of Great Bridge, Virginia.
Late in 1775, just a few months after the "shot heard 'round the world" was fired in Lexington, Massachusetts, Virginia saw one of its first notable battles, described by Patriot Colonel William Woodford as "a second Bunker's Hill affair, in miniature, with this difference, that we kept our post."
In November, the Royal Governor of Virginia, John Murray, the Earl of Dunmore, ordered Royal Marines of the H.M.S. Magdalen to seize the gunpowder that was being stored in the colonial capital of Williamsburg. When Patriot leaders around Virginia heard of Dunmore's plans, they quickly moved towards Williamsburg.
Meanwhile, Dunmore began gathering an army in nearby Norfolk. Knowing that his forces would not be enough to defend Norfolk if the Patriot troops forded the Elizabeth River at the Great Bridge crossing, Dunmore sent the 14th Foot Regiment to fend off the Patriot troops led by Colonel William Woodford that had positioned themselves there.
The opposing forces skirmished over the marshes and swamps near the bridge for several days before the fighting came to a head on December 9. After receiving orders from Dunmore to drive off the Patriots, Captain Samuel Leslie commanded the 14th Regiment up the narrow causeway that led to the bridge, six abreast. In what rings similar to the words of William Prescott at Bunker Hill, who famously told his troops "don't fire till you see the whites of their eyes," the Patriots held their fire until the Tory troops had nearly reached them, and then unleashed a withering volley of fire that ultimately left more than 100 British killed or wounded.
As the Virginians advanced, the British regulars retreated to Fort Murray (which you can see on the historic map we've sent along with your battle maps), and abandoned the stockade later that night. Within a few weeks, the Patriots would invade Norfolk, and Dunmore would flee Virginia.
This early Revolutionary War battle in Virginia proved that the Patriots were a force to be reckoned with, and the tract we can save today adds to what has already been preserved there, prevents future development, and tells an important piece of that tale.
I'd also like to take a moment to point out that saving this land today will also help us tell stories that need to be shared — among the British regulars were members of the "Ethiopian Regiment," formerly enslaved people who were promised their freedom in exchange for fighting for the Crown. A number of men in the regiment had been station at the British garrison, and likely made the charge with the British Regulars onto the causeway. By preserving this key Virginia battlefield, we also preserve their stories, and the stories of all those who fought for freedom throughout our nation's conflicts.
The second tract, located in South Carolina, on Port Royal Island, was the site of another important American victory that again demonstrated Patriot mettle early on in the war. 
Port Royal Island, just north of Savannah, Georgia, provided access to one of the largest ports south of the Chesapeake and thus was coveted by the British. On February 3, 1779, British regulars led by Major James Gardiner, attempted to take the Island and establish a base to support His Majesty's Royal Navy.
Gardiner was met by General William Moultrie and his band of Patriot militia. The troops exchanged fierce fire with the British Regulars for three quarters of an hour before both sides ran out of ammunition. The British were forced to return to Savannah, destined to fight for control of the important port on another day.
Now, let me remind you that a Patriot victory against trained British Regulars at this point in the war would still have been shocking. This band of Continental regulars and militia — which also included a number of Black Patriots, like Jim Capers, who had enlisted in 1775, as well a company recruited from the City's Jewish population — proved that the diverse coalition of South Carolina's militia could stand up to and even defeat British regulars.
(And getting back to the pop quiz at the start of this letter), two of South Carolina's signers of the Declaration of Independence fought in this battle — Captain Thomas Heyward, Jr. and Captain Edward Rutledge — making this battle a truly unique piece of American history, and a story that must be preserved for future generations.
Our next tract takes us forward into August of 1781, when perhaps the most famous small-unit warrior of the Revolutionary War — General Francis Marion — launched one of his most strategically successful ambushes at Parker's Ferry (not to be confused with the better-known place od the following century — Harpers Ferry!).
Located 33 miles west of Charleston, Parker's Ferry hosted a major thoroughfare and crossing over the Pon Pon River (known today as the Edisto River).
Throughout the summer of 1781, British and Loyalist troops regularly patrolled the areas surrounding the city, endeavoring to put down bands of Patriot militia. In what Doug Bostick, historian and President of the South Carolina Battleground Preservation Trust, dubbed a "Quintessential ambush site," the Swamp Fox and his Patriots laid a perfect trap for the British.
On August 29, Marion positioned 445 troops in the woods around the causeway leading to Parker's Ferry. He then sent several dragoons out to attract the attention of more than 600 British, Loyalist, and German troops, drawing them onto the causeway and into a Patriot trap. The plan worked just as Marion intended, and by the end of the engagement the British suffered 125 killed and 80 wounded, while the Patriots lost one man and three wounded.
As Marion himself explained, with colorful spelling, "The enemy hearing the fire & being on their way down Immediately sent their Cavalry to resque them & came on full speed, & receved the fire of the whole Line Runing The Gauntlet through them."
The outcome of Marion's "Ambuscade" also had a major impact on the Battle of Eutaw Springs a few days later: it reduced the number of British horses that could take part in that battle and made the Swamp Fox available to join the fight for American Independence on that key piece of the Liberty Trail, the innovative driving tour we are developing to connect key battlefields of the Southern Campaign.
If you look to your map, you'll see that the tract includes the very ground where this famed ambush took place. And what's more, the addition of this parcel will bring us closer to completing this battlefield, meaning that this key Swamp Fox site will always serve as a reminder of those Patriots and their efforts on behalf of our country.
Now, before I get carried away with more stories about Francis Marion (and I assure you there are many) or the gallantry of our nation's citizen-soldiers, I want to take just a moment to share more good  news . . .
Back by popular demand, the Trust's much-loved return address labels are here! I hope you enjoy the sheet I have included as a special gift to you. As you're preparing your holiday cards this year, please use these labels to show your friends and family that you support battlefield preservation. Your example may serve to inspire some of them to also join our cause.
After all, it's through the efforts of individuals like you — modern-day Patriots and heroes of a different, but still very important kind — who are willing to stand up and fight to preserve our nation's history, that we will ensure the legacies of America's first citizen-soldiers are never forgotten.
Though they may be lesser known than some of their northern counterparts, these three engagements of the Southern Campaign are critical to understanding the full scope of the American Revolution. These are battles that ultimately led to American Independence, and I don't think it's any exaggeration at all to say that the stories they tell are every bit as important as any other that unfolded in one of our nation's foundational conflicts.
The land we have the chance to save today is the land where our first citizen-soldiers – of all races and creeds – fought, bled, and died for our freedom. Whether a renowned Patriot hero like Francis Marion or a soldier like Jim Capers who fought for his independence as well as his country's, the legacies of these individuals are enshrined forever on our nation's hallowed ground.
I've said it before, but I think it bears repeating — these stories need to be told, and it's our responsibility as citizens of this great nation to ensure that they will be.
Will you join me today in standing up and fighting like those Patriots did so many years ago, this time to preserve their legacy and protect our nation's history? I thank you in advance for all you do for preservation in this country.
Gratefully yours,
David N. Duncan, President
P.S.   Don't forget — any gift you make today will be multiplied by 80! We've lined up 98.7% of the funding for these three important projects and we need you to get us over the finish line and make sure this hallowed ground is saved for all time! Don't let this $80-to-$1 match pass by!
P.S.S.  If you would like to donate securely online, please visit the special appeal page we have created on our website at www.battlefields.org/3RevWar. Your gift today will ensure that the unique and inspiring stories that unfolded on these three battlefields will never be lost! Please send your most generous gift today! Thank you again.