Help Preserve the Most Important Unprotected Battlefield Land Left to Save!
A message from David Duncan, American Battlefield Trust president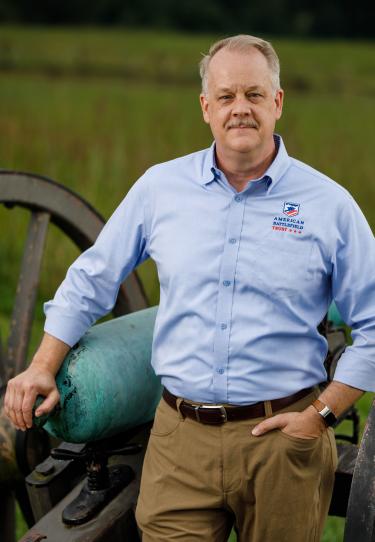 December 9, 2020
Dear Fellow Preservationist,
As the tumultuous year 2020 comes to an end, it is appropriate for me to tell you that I have been wanting to write you this letter for more than 20 years. Let me tell you what I mean: 
Twenty years ago, when (as a much younger man) I first joined the staff of the Trust as the new Director of Membership, I asked my then-boss Jim Lighthizer, "What is the most important unprotected battlefield land in the country?" 
Without a second's hesitation, Jim told me about a nearly one-square mile farm outside of Richmond, Virginia, that was the site of two major Civil War battles, Gaines' Mill in 1862, and Cold Harbor in 1864. 
Holding up his left hand horizontally to show me how the contending troops were positioned east-to-west at Gaines' Mill, Jim then held up his right hand vertically to show how the armies were oriented north-to-south at Cold Harbor. 
Then, he stacked his hands, one on top of the other, to show that this huge, intact, and still-pristine farm was represented by the area where his hands overlapped, at the heart of both battlefields. 
Only a very few major Civil War battles were fought on or near the same ground twice (Manassas or Bull Run comes to mind, plus some smaller actions elsewhere around Richmond.) 
But there is only one place in America where nearly one square mile of a "double battlefield" can still be preserved. 
And there is only one place where that nearly one square mile of hallowed ground is essentially as pristine as it was on each day of those historic battles. 
It has taken more than 20 years of determination, cultivation, and negotiation, but today, it is my honor and pleasure to inform you that, with your help, we have the opportunity to save this most-hallowed battleground in America! 
In full transparency, though, I do have to alert you from the beginning that this preservation effort will be very different from any other we have ever undertaken. 
The main reasons for that difference are the terms of the transaction, in which we have agreed to an unprecedented level of confidentiality as requested by the landowner. 
I hate to be so mysterious with you, but here's what that means: While I can tell you this effort will be among the most expensive this organization has ever faced, I am not at liberty to divulge publicly the exact price we are paying. 
While I can tell you that we have been granted five full years to raise the funds we need, I must tell you that we do have to make timely payments each year, or we risk defaulting on our agreement. 
And while the whole nearly square-mile piece of land will eventually be preserved under a conservation easement, the Trust is permitted to showcase only certain parts of the battlefield for now, rather than provide a map showing the entire tract. 
I fully realize these conditions might be frustrating and could make our job a bit more difficult. But just so you do not have to depend on my word for it, we were able to consult with several major historians on the supreme importance of this land, sharing with them the "final" outcome if we are successful. And based on what they confirmed for us, this effort is worth every second of extra work we will have to put into it. 
In fact, at the October meeting where the Board of Trustees approved this historic transaction, one member of the board recalled what historian Ed Bearss (who sadly passed away a few months ago at age 97) said about this land in 2005: 
"Even if you have to sell every other piece of battlefield land the Trust has ever saved in order to preserve this land, you should do it. It's that important!" 
Historian Gary Gallagher (a founder of our modern battlefield preservation movement) has taken tour groups to this property for decades and has always described it as his "top priority in the country" for preservation. In fact, he says: 
"If pressed to select the single most desirable tract on any battlefield, I would, without hesitation, select the ground essential to protecting both Gaines' Mill and Cold Harbor. Nowhere else does a single piece of land offer so much relating to a pair of major battles, one, the bloodiest action of the strategically seismic Seven Days, and the other a critical episode in the blood-soaked Overland Campaign." 
As you likely know, on June 27, 1862, General Robert E. Lee's Confederates grappled mostly with Union General Fitz-John Porter's Fifth Corps in the Battle of Gaines' Mill – the third of the Seven Days Battles. 
You may not know that Lee's final and successful assault that day is the largest attack ever made on American soil! Fast forward nearly two years to the Battle of Cold Harbor when Union General U.S. Grant tried to defeat Lee's Confederates on much of this same ground. Grant also launched one of the larger attacks of the Civil War on June 3, which was bloodily repulsed and spurred regret from Grant. The two assaults at these two battles totaled some 70,000 attacking soldiers from two armies over two years – on the same ground! To put it further in perspective, you could call this tract in particular "Pickett's Charge, Five Times as Large!" The casualty count from these two battles is nearly 33,000 killed, wounded, and missing! 
Not to pile on, but I really want to communicate to you the unprecedented importance of this opportunity. Historian Robert K. Krick describes this hallowed ground as: 
"Absolutely incomparable. No unpreserved battlefield property in North America resonates with higher historical value than this land. Its crucial location on the Gaines' Mill battlefield might be matched by some other sites; so might its importance for Cold Harbor be matched. No single property anywhere, though, ranks as so powerfully significant for each of two distinct battles. In fact, I think it is safe to say that it rates higher than any of the tremendous preservation coups we have achieved to date. It stands alone." 
Think about that for a moment. Here are three incomparably knowledgeable, professional historians of our country's history who are telling us, in no uncertain terms, that this land may be more important than any the Trust's hundreds of other successes . . . 
. . . more important than the preservation and restoration of Lee's Headquarters at Gettysburg... more important that the 208-acre Slaughter Pen Farm at Fredericksburg... more important than just about any of the 53,000+ acres of hallowed ground that you have helped to save at nearly 150 battlefields over the last two decades! 
Given the confidentiality limitations we must operate under, we have decided to break this larger project we're calling the "Gaines' Mill-Cold Harbor Saved Forever Campaign" into several more manageable parts. Plus, as you look at your battle map series showing the first part of this effort, we also have the opportunity to bundle this first 96-acre parcel of land with two nearby parcels totaling 108 acres on the same battlefield! When it rains, it pours, right? 
The challenge is that, because of where these properties are all located, none are eligible for any federal matching funds; we have to cover these multi-year, and multi-million dollar efforts all on our own. The good news is that several major supporters have already stepped forward to help us with our first payments. 
Looking on your battle map at the 108 acres that we currently have the opportunity to save there, I can tell you that we are looking at a total transaction value of $1,411,000. The historians tell us that this land is worth nearly any price we might have to pay, but we don't have unlimited funds. 
However, as I mentioned before, several major benefactors – even in the time of COVID – have stepped forward with significant personal gifts, and along with a major grant from the Lee-Jackson Educational Foundation, we have fully $900,000 of that amount already covered! 
That leaves us with a still-formidable $511,000 to raise, but I am hopeful that I have made a good- enough case to you today to earn your support of this historic effort. 
This is the definition of a once-in-a-lifetime opportunity. This land has been at the very top of every historian and preservationist's "must-have" list for more than two decades. And I have not even touched on the potential threats to this property – which range from housing subdivisions which are popping up all around Richmond to meet the demand of families wishing to move out of cities during the pandemic, to large-scale industrial "solar farms," hundreds of acres of solar panels blanketing farms all across Virginia to meet governmental mandates for clean energy. 
If we don't put our shoulder to the wheel over the next five years and preserve this land, one of those scenarios – or worse – could be its fate. I don't need to tell you how devastating that would be to all we have already accomplished. 
Over the past 20 years, my predecessor and I have sent many letters to friends like you asking for your help, commitment, and generosity to save hallowed ground across America. I know you have already done so much for the cause of battlefield preservation . . . you have been so generous and have saved so much priceless history for future generations. 
I am so proud to be engaged in this noble work with you, and of all we have achieved together, for the good of our nation. I can only hope that you, too, are gratified to be a supporter of the American Battlefield Trust, because this organization would be nothing . . . could do nothing . . . without you. 
If you will help preserve this land today with your most generous contribution possible, the generations coming up behind you and me will be able to walk this "Marching Into Battle" ground at Cold Harbor and Gaines' Mill, and learn about the courage, valor, and gallantry of American soldiers. 
You can make that happen, and with the gifts already received, I can multiply every $1 you send today into $2.76 for this push, "The Gaines' Mill-Cold Harbor Saved Forever Campaign!" It would give an enormous boost if we could raise our $511,000 portion as soon as possible. 
And if you are able to send a gift of $50 or more, it will be my honor to send you a special new token of my appreciation: An American Battlefield Trust Gaines' Mill-Cold Harbor Challenge Coin. 
In military circles, "challenge coins" have a long history. Members of a branch of service or unit must carry their "coin," and produce it when "challenged" by another service member. If the person challenged cannot produce their coin, they must buy their challenger a drink! 
All in good fun and to increase morale, challenge coins are now widely exchanged and collected, and today, I would like to offer you the opportunity to receive the first one ever struck by the American Battlefield Trust for a battlefield preservation effort. If these prove popular, I could see us producing one for each land preservation campaign we launch in the future, so this is your chance to begin your collection, with yet another tangible token of your dedication to saving America's hallowed ground! 
I thank you very much for your time in this busy season of the year, and thank you for seriously considering making yet another major contribution to the cause of historic battlefield preservation. 
With warmest regards,
David N. Duncan, President
P.S. I encourage you to visit the American Battlefield Trust's website to learn more about this effort, and your role in saving hallowed ground at Gaines' Mill, Cold Harbor, and all across our nation! To see more maps, photos, and articles – and to make your donation online before the end of the year, go to www.battlefields.org/GMCH2020 today! You will receive an e-mail confirmation of your gift in seconds. Thank you, I wish you and yours every joy of the season, and Merry Christmas!