Meredith Barnes
Grand Review
A Color Bearer Event
Join us for the 2022 event in King of Prussia
American Battlefield Trust Event
Grand Review
The Grand Review is an invitation only event. It is reserved for Color Bearers that are Founding, Brigade, Division, Corps and National level. You are invited to bring yourself and one additional guest to enjoy a weekend of history and fellowship!
Schedule of Events
Friday, October 14
3:00 pm – 6:00 pm                                         Registration
4:45 pm                                                              Meet in lobby for tour departure
5:00 pm – 6:00 pm                                         Bus tour: An Introduction to Valley Forge
6:30 pm – 8:30 pm                                         Dinner buffet at Chester County History Museum
7:30 pm – 8:30 pm                                         Bus shuttles to depart from the museum for the Alloy King of Prussia
Saturday, October 15
7:30 am – 9:00 am                                         Registration, coffee, and muffins to go
8:30 am – 5:00 pm                                         Off-site tours
6:30 pm – 8:30 pm                                         Casual Cocktails and Dinner Buffet at the Alloy King of Prussia
Sunday, October 16
8:15 am – 9:15 am                                         Breakfast Buffet
9:30 am – 10:30 am                                      The Revolutionary War in 44 Minutes with Garry Adelman
9:30 am – 12:30 pm                                      Off-site tours
Hotel Information
the Alloy: A Double Tree by Hilton
301 W. Dekalb Pike
King of Prussia, PA 19406 
Details
The room rate is $149/+ night.
To make your hotel reservations, you can visit this link for online booking, or call the hotel at 484-684-1412 and ask for the ABT Group Rate. 
Reservations must be made by Wednesday, September 21, 2022 (or until the room block is full) to receive the reduced group rate. 
Contact
Events Team
American Battlefield Trust
(800) 298-7878 x7229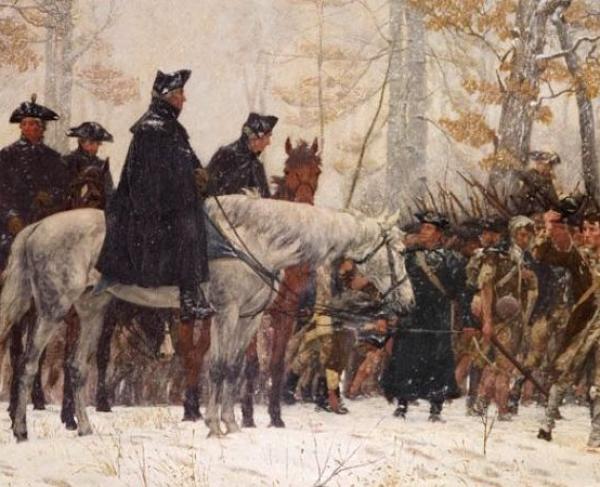 The Continental Army's winter at Valley Forge is famously remembered and depicted in many paintings. Discover 10 facts that you did not know about
The American Revolutionary War is forever ingrained within our American identity, and provides all Americans a sense of who we are, or, at the very
VIDEO | Park Ranger David Lawrence describes the trials and successes of the Continental Army at Valley Forge.